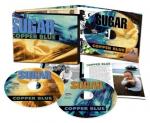 Artist: SUGAR
Album: "COPPER BLUE EXPANDED EDIT. (2CD+DVD DIGI)"

Year: 1992/ 2012
Media type: CD


Цена: 28.00 лв. (BGN)

Cat. No.: WIZ00016156
Label: Demon
Genre: Alternative Rock/ Metal/ Post Grunge/ Drone



Статус: Артикулът е временно изчерпан!
Доставка до 30 дни.
Out of Stock
30 days delivery




• Copper Blue is the classic 1992 debut album by Sugar. Frontman Bob Mould had sung and played guitar for seminal midwest punks Hьsker Dь, openly acknowledged by the likes of Nirvana and The Pixies as a huge influence. Following their break-up and two well-received solo albums, Sugar saw Bob return to a band set-up, signing to the iconic Creation label and scoring indie chart hits with "A Good Idea", "Changes", "Helpless" and "If I Can't Change Your Mind". Copper Blue's ebullient collection of richly melodic and anthemic songs saw Bob triumphantly reclaim an alternative rock legacy he had helped create. The album went in at number 10 in the UK album charts and was NME's Album Of The Year.

• Twenty years on, the album has been lovingly remastered from the original tapes, and is presented here in improved fidelity. Remastering engineer Jim Wilson comments: "Just in terms of the size and power and clarity of it all, the effect of this 2012 remastering is going to be immediately obvious to anybody."

• This deluxe expanded edition includes all the non-album b-sides, a BBC radio session and a full length 1992 live concert. The concert, a favourite of Bob Mould's, was recorded by Chicago college radio station WXRT and has been much bootlegged. This is the first legitimate release, with pristine sound quality, and features the only recorded versions of Sugar covering "Armenia City In The Sky" by The Who and "Dum Dum Boys" by Iggy Pop.

• The DVD features all the promo videos from Copper Blue alongside TV appearances from the BBC and MTV archives.

• The 32 page booklet contains rare photos, memorabilia, and exclusive new interviews that tell the story behind the album in the band's own words.

CD 1 :
1 The Act We Act
2 A Good Idea
3 Changes
4 Helpless
5 Hoover Dam
6 The Slim
7 If I Can't Change Your Mind
8 Fortune Teller
9 Slick
10 Man on the Moon
11 Needle Hits E
12 If I Can't Change Your Mind [solo mix]
13 Try Again
14 Clownmaster
15 If I Can't Change Your Mind (BBC Radio Session)
16 Hoover Dam (BBC Radio Session)
17 The Slim (BBC Radio Session)
18 Where Diamonds Are Halos (BBC Radio Session)

CD 2 :
1 The Act We Act Live At The Cabaret Metro, Chicago, Illinois, 22nd July 1992
2 A Good Idea Live At The Cabaret Metro, Chicago, Illinois, 22nd July 1992
3 Changes Live At The Cabaret Metro, Chicago, Illinois, 22nd July 1992
4 Running Out Of Time Live At The Cabaret Metro, Chicago, Illinois, 22nd July 1992
5 Helpless Live At The Cabaret Metro, Chicago, Illinois, 22nd July 1992
6 If I Can't Change Your Mind Live At The Cabaret Metro, Chicago, Illinois, 22nd July 1992
7 Where Diamonds Are Halos Live At The Cabaret Metro, Chicago, Illinois, 22nd July 1992
8 Hoover Dam Live At The Cabaret Metro, Chicago, Illinois, 22nd July 1992
9 Beer Commercial Live At The Cabaret Metro, Chicago, Illinois, 22nd July 1992
10 Slick Live At The Cabaret Metro, Chicago, Illinois, 22nd July 1992
11 Anyone Live At The Cabaret Metro, Chicago, Illinois, 22nd July 1992
12 Clownmaster Live At The Cabaret Metro, Chicago, Illinois, 22nd July 1992
13 Tilted Live At The Cabaret Metro, Chicago, Illinois, 22nd July 1992
14 Armenia City In The Sky Live At The Cabaret Metro, Chicago, Illinois, 22nd July 1992
15 JC Auto Live At The Cabaret Metro, Chicago, Illinois, 22nd July 1992
16 The Slim Live At The Cabaret Metro, Chicago, Illinois, 22nd July 1992
17 Dum Dum Boys Live At The Cabaret Metro, Chicago, Illinois, 22nd July 1992
18 Man On The Moon Live At The Cabaret Metro, Chicago, Illinois, 22nd July 1992

DVD :

1 Helpless (Promo Videos)
2 Changes (Promo Videos)
3 If I Can't Change Your Mind (Promo Videos)
4 Helpless – Live on The Late Show UK (TV Appearances)
5 Interview – MTV UK (TV Appearances)
6 Interview – MTV US 120 Minutes (TV Appearances)