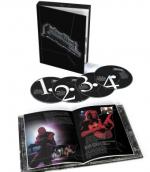 ДРУГИ НАЛИЧНИ АРТИКУЛИ НА
JUDAS PRIEST:





Artist: JUDAS PRIEST
Album: "METALOGY (4CD BOOK)"

Year: 2013
Media type: CD


- МЕГА РАЗПРОДАЖБА!! ВАЖИ ДО ИЗЧЕРПВАНЕ НА ОПРЕДЕЛЕНИТЕ КОЛИЧЕСТВА!!


Цена: 34.00 лв. (BGN)

Cat. No.: WIZ00016064
Label: Sony
Genre: Heavy Metal/ NWOBHM



Статус: Артикулът е временно изчерпан!
Доставка до 30 дни.
Out of Stock
30 days delivery




Re-activated & re-vamped - rare, expensive & unavailable boxsets, repackaged into DVD-sized ecolbooks or "Booksets". Featuring x65 songs across this excellent x4 CD set, including fans favourites, rare tracks & live versions, from 1974-2001. Also includes a full colour x60 page booklet with rare photos, liner notes & commentary pieces. Contains Judas Priest material across various labels including Atlantic, SPV, Sony/Columbia, Gull, CMC International & JVC labels.
CD 1:
No. Title Writer(s) Original Length
1. "Never Satisfied" Al Atkins, K.K. Downing Rocka Rolla (1974) 4:52
2. "Deceiver" Rob Halford, Downing, Glenn Tipton Sad Wings of Destiny (1976) 2:40
3. "Tyrant" Halford, Tipton Sad Wings of Destiny (1976) 4:39
4. "Victim of Changes" (live) Atkins, Halford, Downing, Tipton Unleashed in the East (1979) 7:11
5. "Diamonds & Rust" (live Joan Baez cover) Joan Baez You've Got Another Thing Coming 7" (1982) 3:28
6. "Starbreaker" (live) Halford, Tipton, Downing Take on the World 7" (1979) 7:19
7. "Sinner" Halford, Tipton Sin After Sin (1977) 6:43
8. "Let Us Prey / Call for the Priest" Halford, Tipton, Downing Sin After Sin (1977) 6:12
9. "Dissident Aggressor" Halford, Tipton, Downing Sin After Sin (1977) 3:02
10. "Exciter" Halford, Tipton Stained Class (1978) 5:33
11. "Beyond the Realms of Death" Halford, Les Binks Stained Class (1978) 6:51
12. "Better By You, Better Than Me" Gary Wright Stained Class (1978) 3:22
13. "Invader" Halford, Tipton, Ian Hill Stained Class (1978) 4:10
14. "Stained Class" Halford, Tipton Stained Class (1978) 5:12
15. "The Green Manalishi (With the Two Pronged Crown)" (live Fleetwood Mac cover) Peter Green Previously unreleased, recorded at New York Palladium in 1981 for a radio broadcast

CD 2:
No. Title Writer(s) Original album Length
1. "Killing Machine" Tipton Killing Machine (1978) 3:02
2. "Evening Star" Halford, Tipton Killing Machine (1978) 4:06
3. "Take on the World" Halford, Tipton Killing Machine (1978) 3:03
4. "Delivering the Goods" Halford, Tipton, Downing Killing Machine (1978) 4:16
5. "Evil Fantasies" Halford, Tipton, Downing Killing Machine (1978) 4:13
6. "Hell Bent for Leather" Tipton Killing Machine (1978) 2:40
7. "Breaking the Law" (live) Halford, Tipton, Downing The Green Manalishi 12" (1983), Some Heads Are Gonna Roll 7" (1983) 2:45
8. "Living After Midnight" Halford, Tipton, Downing British Steel (1980) 3:30
9. "Rapid Fire" Halford, Tipton, Downing British Steel (1980) 4:00
10. "Metal Gods" Halford, Tipton, Downing British Steel (1980) 4:04
11. "Grinder" (live) Halford, Tipton, Downing Previously released as a bonus track to the British Steel remaster, recorded in Long Beach in 1984 for a radio broadcast 4:21
12. "The Rage" Halford, Tipton, Downing British Steel (1980) 4:44
13. "Heading Out to the Highway" Halford, Tipton, Downing Point of Entry (1981) 3:45
14. "Hot Rockin'" (live) Halford, Tipton, Downing Hot Rockin Promo 12" (1981) 3:28
15. "Troubleshooter" Halford, Tipton, Downing Point of Entry (1981) 3:47
16. "Solar Angels" Halford, Tipton, Downing Point of Entry (1981) 4:04
17. "Desert Plains" Halford, Tipton, Downing Point of Entry (1981) 4:36
18. "The Hellion / Electric Eye" (live) Halford, Tipton, Downing The Hellion / Electric Eye Promo 12" (1983) 4:20
19. "Screaming for Vengeance" Halford, Tipton, Downing Screaming for Vengeance (1982) 4:43

CD 3:
No. Title Writer(s) Original album Length
1. "Riding on the Wind" Halford, Tipton, Downing Screaming for Vengeance (1982) 3:07
2. "Bloodstone" Halford, Tipton, Downing Screaming for Vengeance (1982) 3:52
3. "You've Got Another Thing Comin'" Halford, Tipton, Downing Screaming for Vengeance (1982) 5:09
4. "Devil's Child" Halford, Tipton, Downing Screaming for Vengeance (1982) 4:48
5. "Freewheel Burning" Halford, Tipton, Downing Defenders of the Faith (1984) 4:42
6. "Jawbreaker" Halford, Tipton, Downing Defenders of the Faith (1984) 3:25
7. "The Sentinel" Halford, Tipton, Downing Defenders of the Faith (1984) 5:24
8. "Love Bites" (live) Halford, Tipton, Downing Previously unreleased, recorded in St. Louis, Missouri in 1986 for a radio broadcast 5:37
9. "Eat Me Alive" Halford, Tipton, Downing Defenders of the Faith (1984) 3:31
10. "Some Heads Are Gonna Roll" Bob Halligan, Jr Defenders of the Faith (1984) 4:05
11. "Rock Hard Ride Free" Halford, Tipton, Downing Defenders of the Faith (1984) 5:00
12. "Night Comes Down" Halford, Tipton, Downing Defenders of the Faith (1984) 4:00
13. "Turbo Lover" Halford, Tipton, Downing Turbo (1986) 5:33
14. "Private Property" Halford, Tipton, Downing Turbo (1986) 4:29
15. "Parental Guidance" Halford, Tipton, Downing Turbo (1986) 3:35
16. "Out in the Cold" Halford, Tipton, Downing Turbo (1986) 6:27
17. "Heart of a Lion" (studio version) Halford, Tipton, Downing previously unreleased, from the Turbo sessions (1986)

CD 4:
No. Title Writer(s) Original album Length
1. "Ram It Down" Halford, Tipton, Downing Ram It Down (1988) 4:48
2. "Heavy Metal" Halford, Tipton, Downing Ram It Down (1988) 5:58
3. "Come and Get it" Halford, Tipton, Downing Ram It Down (1988) 4:05
4. "Blood Red Skies" Halford, Tipton, Downing Ram It Down (1988) 7:05
5. "Painkiller" Halford, Tipton, Downing Painkiller (1990) 6:06
6. "Between the Hammer & the Anvil" Halford, Tipton, Downing Painkiller (1990) 4:48
7. "A Touch of Evil" Halford, Downing, Tipton, Chris Tsangarides Painkiller (1990) 5:54
8. "Metal Meltdown" Halford, Tipton, Downing Painkiller (1990) 4:47
9. "Night Crawler" Halford, Tipton, Downing Painkiller (1990) 5:44
10. "All Guns Blazing" Halford, Tipton, Downing Painkiller (1990) 3:57
11. "Jugulator" Downing, Tipton Jugulator (1997) 5:50
12. "Blood Stained" Downing, Tipton Jugulator (1997) 5:26
13. "Machine Man" Tipton Demolition (2001) 5:15
14. "Feed on Me" Tipton Demolition (2001) 5:28