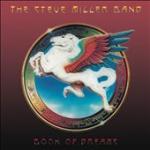 ДРУГИ НАЛИЧНИ АРТИКУЛИ НА
STEVE MILLER BAND:





Artist: STEVE MILLER BAND
Album: "BOOK OF DREAMS SPECIAL EDIT. (DIGI)"

Year: 1977/ 2011
Media type: CD


Цена: 16.00 лв. (BGN)

Cat. No.: WIZ00016037
Label: Demon
Genre: Melodic Hard Rock/ AOR, Classic Rock/ Mainstreem/ Retro Rock



Статус: Артикулът е временно изчерпан!
Доставка до 30 дни.
Out of Stock
30 days delivery




A recording artist since 1968, Miller made eight albums for Capitol,culminating with "The Joker", before recording the multi-million selling "Fly Like An Eagle" in 1976.

In May 1977, Steve followed this up with the album "Book Of Dreams", another multi-million seller all around the world. The album was recorded at the same sessions as "Fly Like An Eagle" and features the hit singles "Jet Airliner", "Jungle Love" and "Swingtown".

The booklet of this Special Digipak Edition contains all the lyrics, a brand new note by San Francisco journalist Joel Selvin, and photos from the "Book Of Dreams" Concert Tour programme.
TRACKLIST:
1 Threshold
2 Jet Airliner
3 Winter Time
4 Swingtown
5 True Fine Love
6 Wish Upon A Star
7 Jungle Love
8 Electro Lux Imbroglio
9 Sacrifice
10 The Stake
11 My Own Space
12 Babes In The Wood