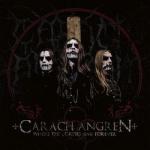 ДРУГИ АРТИКУЛИ НА
CARACH ANGREN:





Artist: CARACH ANGREN
Album: "WHERE THE CORPSES SINK FOREVER (CD)"

Year: 2012
EAN/UPS: 0822603126129
Media type: CD


Цена: 22.00 лв. (BGN)

Cat. No.: WIZ00015900
Label: Season Of Mist
Genre: Black Metal/ Atmospheric/ Dark Metal



Статус: Артикулът е временно изчерпан!
Доставка до 30 дни.
Out of Stock
30 days delivery




Where the Corpse Sink Forever is the third studio album by Dutch black metal band Carach Angren. It was released on May 18, 2012 via Season of Mist. The concept of this album is not about a Dutch urban legend or ghost stories, like the previous two albums, but it deals with war. The album contains references to World Wars I and II, as well as the Vietnam War. The first track is a tape recording of a soldier who was ordered to shoot seven prisoners of war, and each shot can be heard. The soldier explains the strange and wicked sensations he felt as he shot each of the prisoners; they were grinning happily as he tried to kill them, and it seemed like the shots went through them, but they were actually demons who captured the soldierґs soul in a time loop, making him suffer for eternity. Many of the songs in this album describe the deeds of each of the seven fiends; death, war, suffering. From battalions of ghosts to doctors who ate people, and a little boy that foresaw death at his house, this album is wrapped in the horrible history of war.
TRACKLIST:
1. "An Ominous Recording" 1:58
2. "Lingering in an Imprint Haunting" 5:04
3. "Bitte Totet Mich" 5:03
4. "The Funerary Dirge of a Violinist" 8:04
5. "Sir John" 4:27
6. "Spectral Infantry Battalions" 2:04
7. "General Nightmare" 4:19
8. "Little Hector, What Have You Done?" 4:55
9. "These Fields Are Lurking (Seven Pairs of Demon Eyes)" 7:15
Total length: 43:09
LINE-UP:
Seregor - Guitars, Vocals
Namtar - Drums, Percussion
Ardek - Keyboards, Piano, Orchestration, Backing Vocals
Additional musicians:
Valak - Live Guitars
Tyrann - Spoken Part on "General Nightmare"
Nikos Mavridis - Violin