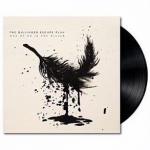 ДРУГИ НАЛИЧНИ АРТИКУЛИ НА
THE DILLINGER ESCAPE PLAN:





Artist: THE DILLINGER ESCAPE PLAN
Album: "ONE OF US IS THE KILLER VINYL (LP+CD)"

Year: 2013
Media type: LP


Цена: 42.00 лв. (BGN)

Cat. No.: WIZ00015705
Label: BMG USA
Genre: Metalcore, Deathcore, Mathcore, Alternative Rock/ Metal/ Post Grunge/ Drone



Статус: Артикулът е временно изчерпан!
Доставка до 30 дни.
Out of Stock
30 days delivery




"One Of Us Is The Killer" sold around 15,000 copies in the United States in its first week of release to debut at position No. 25 on The Billboard 200 chart. The CD was released on May 14 through the band's own Party Smasher Inc., in partnership with Sumerian Records in North America. Party Smasher's partnership with BMG covers the rest of the world, including licensing deals with Grind House for Japan and Remote Control in Australia.
"One Of Us Is The Killer" was recorded in Southern California with longtime producer Steve Evetts (GLASSJAW, THE CURE, SUICIDE SILENCE), with additional production at guitarist/co-founder Ben Weinman's studio. Mastering was handled by Tom Baker (DEFTONES, NINE INCH NAILS, BEASTIE BOYS).
TRACKLIST CD/ LP:
1. Prancer
2. When I Lost My Bet
3. One of Us Is the Killer
4. Hero of the Soviet Union
5. Nothing's Funny
6. Understanding Decay
7. Paranoia Shields
8. CH 375 268 277 ARS
9. Magic That I Held You Prisoner
10. Crossburner
11. The Threat Posed by Nuclear Weapons