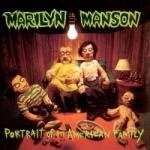 ДРУГИ НАЛИЧНИ АРТИКУЛИ НА
MARILYN MANSON:





Artist: MARILYN MANSON
Album: "PORTRAIT OF AN AMERICAN FAMILY (CD)"

Year: 1994
EAN/UPS: 0606949234423
Media type: CD


- МЕГА РАЗПРОДАЖБА!! ВАЖИ ДО ИЗЧЕРПВАНЕ НА ОПРЕДЕЛЕНИТЕ КОЛИЧЕСТВА!!

Цена: 15.00 лв. (BGN)

Cat. No.: WIZ00015086
Label: Universal
Genre: Alternative Rock/ Metal/ Post Grunge/ Drone, Electro/ Synth Pop/ Industrial



Статус: Артикулът е временно изчерпан!
Доставка до 30 дни.
Out of Stock
30 days delivery




Portrait of an American Family is the debut full-length studio album by American heavy metal band Marilyn Manson. It was released on July 19, 1994 in the US through Nothing and Interscope Records. It was produced by the band's frontman and Trent Reznor of Nine Inch Nails. The album was initially known as The Manson Family Album – a direct reference to serial killer Charles Manson's own band – but was retitled prior to release.
It is the first and only Marilyn Manson studio album that bassist Gidget Gein plays on. Gein was fired from the band after its production following a very public and destructive heroin addiction and Twiggy Ramirez, the band's roadie and friend of Gein and Manson, was put as a temporary replacement while Gein got clean and sober. He eventually took over Gein's place and briefly adopted his image. Contrary to popular belief, Ramirez did not play bass on the album. Though Sara Lee Lucas was the featured drummer on the album, Nine Inch Nails live keyboardist Charlie Clouser used a drum machine to replace the work Lucas did. Daisy Berkowitz helped compose music for all of the songs except "Prelude (The Family Trip)" and "Sweet Tooth."
The album was certified Gold on May 29, 2003 by the Recording Industry Association of America (RIAA) in the United States. It spawned three singles ("Get Your Gunn", "Lunchbox" and "Dope Hat").
TRACKLIST:
No. Title Length
1. "Snakes Eyes and Sissies" 5:09
2. "Snakes Eyes and Sissies" (Single mix edit) 3:57
3. "Lunchbox" 4:26
4. "Get Your Gunn" 4:04
5. "Cyclops" 3:41
6. "Citronella" (Dogma) 3:18
7. "Cake and Sodomy" 3:52
8. "Filth" 4:31
9. "Sweet Tooth" 4:41
10. "Organ Grinder" 5:04
11. "My Monkey" 4:52
12. "Misery Machine" 4:54
13. "Dope Hat" 4:27
Total length: 56:58
LINE-UP:
Mr. Manson – vocals, producer, brass, loops, artwork, adaptation, composer, logo (credited as "accusations, child manipulations, backwards masking, polaroids")
Daisy Berkowitz – guitars, acoustic guitars, composer (credited as "psychoacoustical guitars")
Madonna Wayne Gacy – calliope, hammond organ, saxophone, theremin, brass, overdubs, loops, composer, sound effects (credited as "hammond organ, theremin, saxophone, calliopenis, brass, babies, distorted muzette, loops")
Sara Lee Lucas – drums, sound effects (credited as "hitting")
Gidget Gein – bass, composer
Twiggy Ramirez – "base tendencies" (an often misunderstood pun, which of course, would be different from the bass guitar)
Trent Reznor – executive producer, digital editing, editing, pandora, programming, mixing, brass, guitar