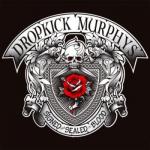 Artist: DROPKICK MURPHYS
Album: "SIGNED AND SEALED IN BLOOD (DIGI)"

Year: 2013
EAN/UPS: 0602537241828
Media type: CD

Цена: 24.00 лв. (BGN)

Cat. No.: WIZ00015073
Label: Born & Bred
Genre: Rock Punk Ska



Статус: Артикулът е временно изчерпан!
Доставка до 30 дни.
Out of Stock
30 days delivery





Signed and Sealed in Blood is the eighth studio album by the Dropkick Murphys. The album was released on January 8, 2013 on the band's Born & Bred Records label. The album made its debut at No.9 on the Billboard album chart, the second highest debut for the band (their previous album made its debut at No.6).

The album's title comes from the lyrics of the first single, "Rose Tattoo". A music video for the song was released on November 7, 2012. On December 4, 2012, the band released another music video on their website for the song "The Seasons Upon Us".

Musical styleWhere "Going Out in Style" told the story of a fictional character named Cornelius Larkin -- complete with an obituary written by Michael Patrick MacDonald for the liner notes -- "Signed..." has no such constraints. "This is just the opposite of that," bassist Ken Casey explains, "just us having fun and making the most catchy, singalong kind of songs we can. It's not that the last album wasn't fun. It was. 'Going Out in Style' is one of the records I'm most proud of, of anything we've done. But it gave me a couple migraines along the way, getting through that because everything was so connected. This time we cut loose." But he does feel that "Signed..." is also "almost a continuation of ('Going Out in Style'), in a musical sense. There's an upbeat, party vibe to it. A lot of these songs, we were having such a good time writing them and just enjoying the writing process. It's the quickest we've released an album, ever, after another."

The group has been previewing some of the new songs during its Halfway To St. Patrick's Day U.S. tour, which wraps up September 21, 2012 in Boston. Casey describes the final track, "End of the Night," as "the closing time, kind of loser's anthem, about people who don't want to go home." The album also features a holiday song called "The Seasons Upon Us," which Casey promises "is definitely not some cheesy Christmas tune. It's about a dysfunctional family."

All songs written by Al Barr, Tim Brennan, Ken Casey, Jeff DaRosa, Matt Kelly and James Lynch, except where noted.

TRACKLIST:

1."The Boys Are Back" – 3:20
2."Prisoner's Song" – 2:37
3."Rose Tattoo" – 5:06
4."Burn" – 2:39
5."Jimmy Collins' Wake" (words written by Richard Johnson) – 2:59
6."The Season's Upon Us" – 4:02
7."The Battle Rages On" – 2:17
8."Don't Tear Us Apart" – 3:01
9."My Hero" – 3:10
10."Out on the Town" – 3:02
11."Out of our Heads" – 3:11
12."End of the Night" – 5:17

LINE-UP:

Al Barr – lead vocals
Tim Brennan – guitars, accordion, bouzouki, piano, whistle, vocals
Ken Casey – lead vocals, bass guitar
Jeff DaRosa – banjo, bouzouki, mandolin, mandola, acoustic guitar, piano, autoharp, vocals
Matt Kelly – drums, vocals
James Lynch – guitars, vocals
Scruffy Wallace – bagpipes, whistles
Winston Marshall - banjo on "Rose Tattoo"