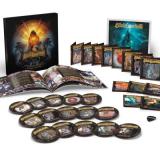 Artist: BLIND GUARDIAN
Album: "A TRAVELER'S GUIDE TO SPACE AND TIME BOX (15CD+BOOK BOXSET)"

Year: 2013
Media type: CD


- Save up your Christmas money for February when A Traveler's Guide to Space and Time, a strictly limited edition Blind Guardian box set with 15 CDs in 13 high quality digipacks and only 8000 copies worldwide, is released [!]

- КОЛИЧЕСТВАТА ОТ ТОЗИ ФОРМАТ/ АРТИКУЛ СА ОКОНЧАТЕЛНО ИЗЧЕРПАНИ И НЕ МОГАТ ДА БЪДАТ ДОСТАВЕНИ [!]

- DELETED [!]

Цена: 234.00 лв. (BGN)

Cat. No.: WIZ00015026
Label: EMI
Genre: Power Heavy Metal, Symphonic/ Neo Classical Heavy Metal, Melodic Heavy Metal



Статус: Артикулът е временно изчерпан!
Доставка до 30 дни.
Out of Stock
30 days delivery




Looking back over Blind Guardian's career from the here and now in 2013, you see a success story gone global, the likes of which very few other German metal bands have ever experienced. This band from Krefeld has been just about everywhere, conquering the North American market in the same way as they stormed the charts in Asia or packed concert venues in South America and even South Africa. From their (at that point purely) German beginnings with debut album Battalions of Fear (1988), followed by their first international recognition with the second album Follow the Blind (1989) and the euphoria which went round the world when Tales from the Twilight World (1990) and Somewhere Far Beyond (1992) came out, right through to their masterpiece of composition in A Night at the Opera (2002), the name of the band developed to become an unmistakable world brand. There are lots of reasons for this, but no doubt much of it is down to the extraordinary skill of everyone involved, their virtuoso dexterity and that gift for bringing mystical themes in tune with unusually complex metal directives. Something else which really makes Blind Guardian stand out is the way they have always kept so close to their fans. Even more proof of their unconditional commitment to the huge fan-base is being released now; A Traveler's Guide to Space and Time, a strictly limited edition deluxe box set with a total of 15 CDs in 13 high quality digipacks, which the musicians and the record company have been working on together for almost a year. A particularly long time to create a compilation you may think, but a glance at just how much this box set encompasses explains why their conscientious and time-consuming preparation took so long.
So, there is so much to find, enjoy and rediscover in this outright opulent deluxe box which is accompanied by a 20 page glossy booklet (size: 27cm x 27cm) containing comments from the members of the band and more than 100 rare and mainly unpublished photos belonging to the musicians. A limited edition and numbered Blind Guardian art print on special paper (sized 27cm by 27cm) and a guitar plectrum engraved with the band's logo have also been added to the box.
Blind Guardian are rightly proud of this glorious package. "With A Traveler's Guide to Space and Time we document how much has Blind Guardian developed between 1988 and 2004 in, as I see it, a particularly impressive and vivid way", explains singer/bassist Hansi Kьrsch who, together with original members Andre Olbrich and Marcus Siepen, still controls the destiny of this amazing group. Kursch adds: "The brand new mastering also makes sure that all 15 CDs are on the same level as far as the dynamics are concerned so theoretically you can listen to the whole box at one go, without having to adjust the volume level at all."

TRACKLIST
for "A Traveler's Guide to Space and Time" (15 CD Set) :
Disc 1- Battalions of Fear (Digitally Remastered 2012)
1. Majesty – 2. Guardian of the Blind – 3. Trial by the Archon – 4. Wizard's Crown – 5. Run for the Night – 6. The Martyr – 7. Battalions of Fear – 8. By the Gates of Moria – 9. Gandalf's Rebirth (New 2013 Mix)
Disc 2 – Follow the Blind (Digitally Remastered 2012)
1. Inquisition – 2. Banish from Sanctuary – 3. Damned for All Time – 4. Follow the Blind – 5. Hall of the King – 6. Fast to Madness – 7. Beyond the Ice – 8. Valhalla – 9. Don't Break the Circle – 10. Barbara Ann
Disc 3 – Tales from the Twilight World (Digitally Remastered 2012 & New Mix 2012)
1. Traveler in Time – 2. Welcome to Dying – 3. Weird Dreams – 4. Lord of the Rings – 5. Goodbye My Friend – 6. Lost in the Twilight Hall – 7. Tommyknockers – 8. Altair 4 – 9. The Last Candle – 10. Run for the Night (Live)
Disc 4 – Somewhere Far Beyond (Digitally Remastered 2012 & New Mix 2012)
1. Time What Is Time – 2. Journey Through the Dark – 3. Black Chamber – 4. Theatre of Pain – 5. The Quest for Tanelorn – 6. Ashes to Ashes – 7. The Bard's Song (In the Forest) – 8. The Bard's Song (The Hobbit) – 9. The Piper's Calling – 10. Somewhere Far Beyond – 11. Spread Your Wings – 12. Trial by Fire – 13. Theatre of Pain
Disc 5 – Tokyo Tales (Original 1993 Mix, Digitally Remastered 2012)
1. Inquisition – 2. Banish from Sanctuary – 3. Journey Through the Dark – 4. Traveler in Time – 5. The Quest for Tanelorn – 6. Goodbye My Friend – 7. Time What Is Time – 8. Majesty – 9. Valhalla – 10. Welcome to Dying – 11. Lost in the Twilight Hall – 12. Barbara Ann
Disc 6 – Imaginations from the Other Side (Digitally Remastered 2012 & New Mix 2012)
1. Imaginations from the Other Side – 2. I'm Alive – 3. A Past and Future Secret – 4. The Script for My Requiem – 5. Mordred's Song – 6. Born in a Mourning Hall – 7. Bright Eyes – 8. Another Holy War – 9. And the Story Ends
Disc 7 – The Forgotten Tales (Original Mixes Digitally Remastered 2012)
1. Mr. Sandman – 2. Surfin' USA – 3. Bright Eyes – 4. Lord of the Rings – 5. The Wizard – 6. Spread Your Wings – 7. Mordred's Song – 8. Black Chamber – 9. The Bard's Song (In the Forest) – 10. Barbara Ann – 11. A Past and Future Secret – 12. To France – 13. Theatre of Pain
Disc 8 – Nightfall in Middle-Earth (Digitally Remastered 2012 & New Mix 2012)
1. War of Wrath – 2. Into the Storm – 3. Lammoth – 4. Nightfall – 5. The Minstrel – 6. The Curse of Feanor – 7. Captured – 8. Blood Tears – 9. Mirror Mirror – 10. Face the Truth – 11. Noldor (Dead Winter Reigns) – 12. Battle of Sudden Flames – 13. Time Stands Still(At the Iron Hill) – 14. The Dark Elf – 15. Thorn – 16. The Eldar – 17. Nom the Wise – 18. When Sorrow Sang – 19. Out on the Water – 20. The Steadfast – 21. Dark Passage – 22. Final Chapter (Thus Ends)
Disc 9 – A Night at the Opera (Digitally Remastered 2012 & New Mix 2012)
1. Precious Jerusalem – 2. Battlefield – 3. Under the Ice – 4. Sadly Sings Destiny – 5. The Maiden and the Minstrel Knight – 6. Wait for an Answer – 7. The Soulforged – 8. Age of False Innocence – 9. Punishment Divine – 10. And Then There Was Silence
Live (Digitally Remastered 2012)
Disc 10
1. War of Wrath – 2. Into the Storm – 3. Welcome to Dying – 4. Nightfall – 5. The Script for My Requiem – 6. Harvest of Sorrow – 7. The Soulforged – 8. Valhalla – 9. Majesty – 10. Mordred's Song - 11. Born in a Mourning Hall
Disc 11
1. Under the Ice – 2. Bright Eyes – 3. Punishment Divine – 4. The Bard's Song (In the Forest) – 5. Imaginations from the Other Side – 6. Lost in the Twilight Hall – 7. A Past and Future Secret – 8. Time Stands Still (At the Iron Hill) – 9. Journey Through the Dark – 10. Lord of the Rings – 11. Mirror Mirror
Imaginations Through the Looking Glass – Live in Coburg, 2003 (for first time on CD – digitally remastered 2012)
Disc 12
1. War of Wrath – 2. Time Stands Still (At the Iron Hill) – 3. Banish from Sanctuary – 4. Nightfall - 5. The Script for My Requiem – 6. Valhalla – 7. A Past and Future Secret – 8. Punishment Divine – 9. Mordred's Song – 10. The Last Candle
Disc 13
1. Bright Eyes – 2. Lord of the Rings – 3. I'm Alive – 4. Another Holy War – 5. And Then There Was Silence – 6. Somewhere Far Beyond – 7. The Bard's Song (In the Forest) – 8. Imaginations from the Other Side – 9. And the Story Ends – 10. Mirror Mirror
Disc 14 – Nightfall in Middle-Earth – Special Edition (Digitally Remastered 2012 & New Mix 2012)
1. Into the Storm – 2. Nightfall – 3. The Curse of Feanor – 4. Blood Tears (new vocal mix 2012) – 5. Mirror Mirror – 6. Noldor (Dead Winter Reigns) – 7. Time Stands Still (At the Iron Hill) – 8. Thorn – 9. The Eldar – 10. When Sorrow Sang – 11. A Dark Passage
Disc 15 – An Extraordinary Tale (Live Rarities & Demos – Digitally Remastered 2012)
1. Welcome to Dying (Demo) – 2. Lord of the Rings (Demo) – 3. The Bard's Song (In the Forest) (Demo) – 4. The Bard's Song (The Hobbit) (Demo) – 5. Theatre of Pain (Demo) – 6. Trial by Fire (Demo) - 7. The Quest for Tanelorn (unreleased extended version) – 8. Harvest of Sorrow (rare version) – 9. I'm Alive (Demo)