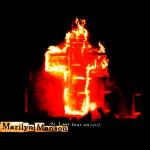 ДРУГИ НАЛИЧНИ АРТИКУЛИ НА
MARILYN MANSON:





Artist: MARILYN MANSON
Album: "THE LAST TOUR ON EARTH (CD)"

Year: 1999
Media type: CD


Цена: 15.00 лв. (BGN)

Cat. No.: WIZ00014872
Label: Universal
Genre: Dark Pop/ Rock/ New Wave, Electro/ Synth Pop/ Industrial



Статус: Артикулът е временно изчерпан!
Доставка до 30 дни.
Out of Stock
30 days delivery




The Last Tour on Earth is a live album comprising recordings from Marilyn Manson's Mechanical Animals and Rock is Dead tours. On the studio version of "The Dope Show", Manson says that drugs "are made in California", but in the live version, he says that "drugs, they say, are made right here in Cleveland", to a roar of crowd approval, suggesting that the song was recorded in Cleveland, Ohio. "Lunchbox" was recorded in Grand Rapids, Michigan, and "I Don't Like the Drugs (But the Drugs Like Me)" was recorded in Cedar Rapids, Iowa. "The Last Day on Earth" was recorded in Las Vegas on the Mechanical Animals Tour, and "Get Your Gunn" was recorded some time during the Rock is Dead Tour.
Rock is Dead is introduced as if Omega and the Mechanical Animals, the alter-egos Manson and his band devised for the Mechanical Animals album and tour, were playing. Some of the tracks, most notably "I Don't Like the Drugs (But the Drugs Like Me)", are prefaced with spoken diatribes.
The album includes one new studio track, "Astonishing Panorama of the Endtimes", which also appears on the Celebrity Deathmatch soundtrack.
TRACKLIST:
1."Inauguration of the Mechanical Christ" (intro) – 2:45
2."The Reflecting God" – 5:32 (from Antichrist Superstar)
3."Great Big White World" – 5:21 (from Mechanical Animals)
4."Get Your Gunn" – 3:37 (from Portrait of an American Family)
5."Sweet Dreams / Hell Outro" – 5:36 (from Smells Like Children / Spawn: The Album)
6."Rock is Dead" – 3:20 (from Mechanical Animals)
7."The Dope Show" – 3:56 (from Mechanical Animals)
8."Lunchbox" – 8:35 (from Portrait of an American Family)
9."I Don't Like the Drugs (But the Drugs Like Me)" – 7:31 (from Mechanical Animals)
10."Antichrist Superstar" – 5:15 (from Antichrist Superstar)
11."The Beautiful People" – 4:30 (from Antichrist Superstar)
12."Irresponsible Hate Anthem" – 4:40 (from Antichrist Superstar)
13."The Last Day on Earth" – 4:26 (from Mechanical Animals)
14."Astonishing Panorama of the Endtimes" – 3:59