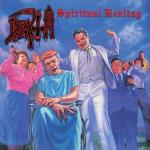 Artist: DEATH
Album: "SPIRITUAL HEALING DELUXE EDIT. (2CD O-CARD)"

Year: 1990/ 2012
EAN/UPS: 0781676719426
Media type: CD


- DEATH has sold over 1,000,000 records around the globe including over 500,000 in Europe alone! DEATH's reissues of 'Human,' 'Individual Thought Patterns,' 'Vivus!' and 'The Sound of Perseverance' have already sold over 13,000 copies in Europe!! DEATH is universally recognized for inventing the death metal genre! 'Spiritual Healing' is the sixth release in a year long celebration of the 10th anniversary of the passing of Chuck Schuldiner that will see the entire DEATH catalog re-released with unreleased tracks, expanded liner notes and new artwork [!]

Цена: 28.00 лв. (BGN)

Cat. No.: WIZ00014806
Label: RELAPSE
Genre: Old Skull/ Melodic Death Metal



Статус: Артикулът е временно изчерпан!
Доставка до 30 дни.
Out of Stock
30 days delivery




Death's landmark 'Spiritual Healing' record is nothing short of genre-defining. Originally released in 1990, Spiritual Healing marked a new turn in the Death discography, one which ushered in cleaner production, a new level of boundary pushing musicianship and songwriting skills that were previously unimaginable from a metal band. Spiritual Healing sets the standard for riffs, insane time changes and of course mainman Chuck Schuldiner's masterful guitar solos. Now reissued as a double cd housed in super deluxe packaging featuring brand new liner notes from Death players James Murphy and Terry Butler, Chuck's mother Jane Schuldiner and Michael Poulsen (Volbeat), disc 1 features a completely new remaster of the original album and disc 2 contains 16 previously unreleased rehearsal, outtakes and studio instrumentals.
Recommended if You Like:
JUDAS PRIEST, NEVERMORE, OBSCURA, CYNIC, ATHEIST, CANNIBAL CORPSE, MORBID ANGEL, DEATH, NILE, BOLT THROWER, MISERY INDEX, ABORTED, DYING FETUS, CRYPTOPSY, ENTOMBED, DEVOURMENT, SIX FEET UNDER, AMON AMARTH ...

TRACKLIST CD1:
1. Living Monstrosity
2. Altering The Future
3. Defensive Personalities
4. Within the Mind
5. Spiritual Healing
6. Lowlife
7. Genetic Reconstruction
8. Killing Spree
TRACKLIST CD 2:
Spiritual Healing Rehearsals
1. Altering the Future
2. Defensive Personalities
3. Within The Mind
4. Within The Mind – Take 2
5. Spiritual Healing
6. Killing Spree
Spiritual Healing Instrumentals
7. Defensive Personalities
8. Spiritual Healing
9. Within The Mind
Joke/Jam Tracks
10. Satanic Jam
11. Primus Jam
12. Jon a Qua – Take 2
13. Jon a Qua – Take 3
14. Jon a Qua – Take 4
15. Jon a Qua – Take 5
16. Jon a Qua – Take 6