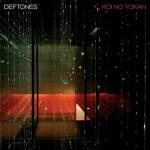 ДРУГИ АРТИКУЛИ НА
DEFTONES:





Artist: DEFTONES
Album: "KOI NO YOKAN (CD)"

Year: 2012
Media type: CD


Цена: 16.00 лв. (BGN)

Cat. No.: WIZ00014799
Label: Warner
Genre: Crossover/ Nu Metal, Emo Rock, Alternative Rock/ Metal/ Post Grunge/ Drone



Статус: Артикулът е временно изчерпан!
Доставка до 30 дни.
Out of Stock
30 days delivery




Koi No Yokan is the seventh full-length studio album by American alternative metal band Deftones. The album was released through Reprise Records on November 12, 2012, in the UK and November 13, 2012, in the United States. Band frontman Chino Moreno characterized the album as "dynamic" with a full range of sound, noting that more contributions were made to the album from bassist Sergio Vega compared to their previous record, Diamond Eyes. On September 19, 2012, the band released the song "Leathers" as a promotional single via a free download on their website. On October 8, 2012, "Leathers" was released as the album's first single. "Leathers" was also released as a limited edition cas-single with "Rosemary" as its B-side. On October 3, 2012, the song, "Tempest", premiered on PureVolume for streaming. "Tempest" was released as a single on October 9, 2012.
Koi No Yokan marks the second album not to feature long-time bass player Chi Cheng, who continues to slowly recover from a near-fatal car accident in 2008. The CD for this album was released on November 14, 2012 in Japan under the title (Koi no Yokan), which means "Love's Premonition".
All lyrics written by Chino Moreno, all music composed by Deftones.
TRACKLIST:
No. Title Length
1. "Swerve City" 2:44
2. "Romantic Dreams" 4:38
3. "Leathers" 4:08
4. "Poltergeist" 3:31
5. "Entombed" 4:59
6. "Graphic Nature" 4:31
7. "Tempest" 6:05
8. "Gauze" 4:41
9. "Rosemary" 6:53
10. "Goon Squad" 5:40
11. "What Happened to You?" 3:53
Total length: 51:50
LINE-UP:
Abe Cunningham - drums
Stephen Carpenter - guitars
Frank Delgado - turntables, samples, keyboards
Chino Moreno - vocals, guitars
Sergio Vega - bass