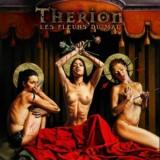 Artist: THERION
Album: "LES FLEURS DU MAL LTD. TOUR EDIT. (DIGI)"

Year: 2012
Media type: CD


- LIMITED TOUR EDIT. DIGIPAK INCL. BONUS TRACK [!]


- МЕГА РАЗПРОДАЖБА!! ВАЖИ ДО ИЗЧЕРПВАНЕ НА ОПРЕДЕЛЕНИТЕ КОЛИЧЕСТВА!!



- New studio album from Swedens pioneers of "classical music combined with heavy guitars", as described by the press - 15 tracks of top THERION sound, all the fans know and love! THERION is celebrating their 25th year anniversary with a special art project, in which the album "Les Fleurs du Mal" is the core part
- Recorded & Mixed by Christofer Johnsson at Adulruna Studios. Visual art is by todays famous controversial painter Saturno Butto (Italy) and layout by Thomas Ewerhard [!]



Цена: 18.00 лв. (BGN)

Cat. No.: WIZ00014663
Label: Therion/ Wizard
Genre: Progressive/ Instrumental Metal, Symphonic/ Neo Classical Heavy Metal, Gothic Melancholic Metal/ Rock



Статус: Наличен / In Stock




After the last THERION album released in 2010, which was "Sitra Ahra" and was mixed by ABBA legend Lennart Ostlund at the famous Polar studio, Therion returns in 2012 to celebrating the band's 25th year anniversary with touring and a special art project, in which the album "Les Fleurs du Mal" is the core part.
The album "Les Fleurs du Mal" is a part of an art project that Christofer Johnsson has been thinking about for some years.
"The time was never right for it, but in celebration of the band's 25th year anniversary, I thought now will finally be the right time for it," Christofer Johnsson explains.
There are still many details that are unknown about this mystical art project, and so far only the album title "Les Fleurs du Mal" of Therion's upcoming release can be officially announced.
The album title refers to Charles Baudelaire's (French author and poet 1821 - 1867) famous poem collection "Flowers of Evil" ("Les Fleurs du Mal" in French) that caused such an upset of emotions in France that the author was brought to court and got fined for "insulting the public" with six of the poems, that remained forbidden in France until 1949 when the ban was finally lifted. The spirit of the project is a tribute to Baudelaire, and is imbued into both music and artwork. The album was recorded at Adulruna studio, located in a separate building next to Johnsson's decadent "Villa Adulruna" where the band lived together while recording.
Christofer explain that "This is the beginning of a new period that will last for a number of years, where the band will focus on doing certain projects performed by Therion rather than releasing regular albums. In the planning after the art project is a rock opera that is scheduled to take several years to complete."
Now during Therion's "Flowers of Evil" and the band's 25th anniversary tour the audience can expect a classy performance which combines all the elements which have been the key to Therion's success throughout the years.
TRACKLIST:
1."Poupee de cire, poupee de son" - 2:51
Originally composed by Serge Gainsbourg and performed by France Gall
2."Une fleur dans le cour" - 3:03
Originally performed by Victoire Scott in 1968
3."Initials B.B." - 3:44
Originally composed and performed by Serge Gainsbourg, B.B is for Brigitte Bardot
4."Mon amour, mon ami" - 4:35
Originally performed by Marie Laforкt
5."Polichinelle" - 2:28
Oiginally performed by France Gall
6."La Maritza" - 3:54
Originally performed by Sylvie Vartan
7."Sour angelique" - 3:05
Originally performed by Annie Philippe
8."Dis-moi poupee" - 3:24
Originally performed by Isabelle in 1967
9."Lilith" - 2:30
Originally performed by Leonie
10."En Alabama" - 2:39
Originally performed by Leonie
11."Wahala manitou" - 2:34
Originally performed by Leonie
12."Je n'ai besoin que de tendresse" - 2:14
Originally performed by Claire Dixon in 1967
13."La licorne d'or" - 2:45
Originally performed by Victoire Scott in 1968
14."J'ai le mal de toi" - 2:51
Originally performed by Betty Mars in 1974
15."Poupee de cire, poupee de son" - 2:31
Originally composed by Serge Gainsbourg and performed by France Gall
16."Les sucettes" - 2:40 - BONUS TRACK
Originally composed by Serge Gainsbourg and performed by France Gall in 1966
LINE-UP:
Christofer Johnsson - guitar
Christian Vidal - guitar
Nalle Pahlsson - bass
Johan Kullberg - drums
Thomas Vikstrom - vocals
Lori Lewis - vocals