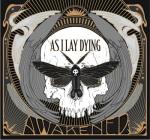 ДРУГИ НАЛИЧНИ АРТИКУЛИ НА
AS I LAY DYING:





Artist: AS I LAY DYING
Album: "AWAKENED (CD)"

Year: 2012
Media type: CD


- AS I LAY DYING are the undisputed leaders of the new generation in Modern Metal [!]


Цена: 22.00 лв. (BGN)

Cat. No.: WIZ00014602
Label: METAL BLADE
Genre: Heavy Metal/ NWOBHM, Old Skull/ Melodic Death Metal, Metalcore, Deathcore, Mathcore



Статус: Артикулът е временно изчерпан!
Доставка до 30 дни.
Out of Stock
30 days delivery




Global metal titans As I Lay Dying kick off their second decade together with Awakened, the sixth and hands-down most powerful release of a stunning career. Seething with metallic vitriol, overflowing with energy, and rich with the kind of melody that irrevocably implants itself in the listener's mind, it is the sound of a band pushing themselves to outdo everything that has come before, be it their own previous work, or that of their contemporaries, and daring all to do better.
From the flurry of blastbeats and mauled guitar that kick off opener "Cauterize" to the epic darkness of closer "Tear Out My Eyes", the musicianship and arrangements are consistently riveting, the band showcasing their strengths while subtly introducing thrilling new elements to their sound. "There's nothing totally out of left-field, we just refined our songwriting and incorporated some ideas that bring a real freshness to the record," Sgrosso states. "We wanted something that was a lot bigger and more open sounding, and that's exactly what we achieved."
Having previously worked with producer (and Killswitch Engage guitarist) Adam Dutkiewicz on 2007's An Ocean Between Us and The Powerless Rise, Awakened is the first time that the band collaborated with producer (and punk rock legends The Descendents drummer) Bill Stevenson. With the likes of Rise Against, Comeback Kid, and NOFX on his production resumй, the choice of Stevenson as producer was an inspired one. "We wanted to work with somebody who was outside the box for our genre, but involved enough in underground music that they would understand the mentality of our band."
TRACKLIST CD:
01. Cauterize
02. A Greater Foundation
03. Resilience
04. Wasted Words
05. Whispering Silence
06. Overcome
07. No Lungs to Breathe
08. Defender
09. Washed Away
10. My Only Home
11. Tear Out My Eyes