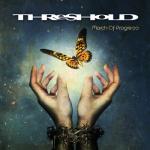 ДРУГИ АРТИКУЛИ НА
THRESHOLD:





Artist: THRESHOLD
Album: "MARCH OF PROGRESS (CD)"

Year: 2012
Media type: CD


- The next amazing album of the most distinct and irresistible band of the whole Prog-Metal scene" [!]

- ВРЕМЕННО НАМАЛЕНИЕ!! ВАЖИ ДО ИЗЧЕРПВАНЕ НА ОПРЕДЕЛЕНИТЕ КОЛИЧЕСТВА!!

Цена: 18.00 лв. (BGN)

Cat. No.: WIZ00014446
Label: NUCLEAR BLAST
Genre: Progressive/ Instrumental Metal, Melodic Heavy Metal



Статус: Артикулът е временно изчерпан!
Доставка до 30 дни.
Out of Stock
30 days delivery




Formed in the late 1980s, British progressive metal frontrunners THRESHOLD combined influences of heavy metal and prog rock to craft their very own trademark style that was a far cry from the typical contemporary sound. Their highly acclaimed debut album "Wounded Land" was released in 1993, followed-up by "Psychedelicatessen" (1994), "Extinct Instinct" (1997), "Clone" (1998), "Hypothetical" (2001), "Critical Mass" (2002), and "Subsurface" (2004), accompanied by tours with combos such as DREAM THEATER, PSYCHOTIC WALTZ and PAIN OF SALVATION. 2007 saw the release of the band's successful Nuclear Blast debut "Dead Reckoning" (#30 UK Indie Charts, #37 UK Rock Charts, #64 Germany, #95 Netherlands) – shortly afterwards, original singer Damian Wilson rejoined THRESHOLD for a period of extensive touring, replacing former vocalist Andrew "Mac" McDermott, who sadly passed away on the 3rd of August 2011. Over the course of their 20th anniversary, the Brits released a collector's box set entitled "Paradox – The Singles Collection" in 2009.
After five years, THRESHOLD are back with a brand-new studio album, recorded & produced in Thin Ice Studios (DRAGONFORCE, PENDRAGON) by Karl Groom and Richard West with additional production at Eightspace Studio (LEAGUE OF LIGHTS, THE MORNING AFTER). Progressive as always but stronger than ever - it's not for nothing that the opus is entitled "March Of Progress"! With a total running time of almost 70(!) minutes, it marks the longest but yet most diversified release of the band's entire career. Enchanting melodies to die for, perfectly blended with just the right pitch of harshness and topped off with Damian Wilson's heavenly vocals. Don't be a stick-in-the-mud – join the "March Of Progress"!
TRACKLIST:
1 - Ashes
2 - Return Of The Thought Police
3 - Staring At The Sun
4 - Liberty Complacency Dependency
5 - Colophon
6 - The Hours
7 - That's Why We Came
8 - Don't Look Down
9 - Coda
10 - Rubicon
LINE-UP:
Damian Wilson | vocals
Karl Groom | guitar
Pete Morten | guitar
Steve Anderson | bass
Johanne James | drums
Richard West | keyboards