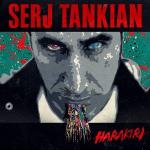 ДРУГИ АРТИКУЛИ НА
SERJ TANKIAN:





Artist: SERJ TANKIAN
Album: "HARAKIRI (CD)"

Year: 2012
Media type: CD


Цена: 16.00 лв. (BGN)

Cat. No.: WIZ00014403
Label: Reprise/ Warner
Genre: Heavy Metal/ NWOBHM, Progressive/ Instrumental Metal, Emo Rock



Статус: Артикулът е временно изчерпан!
Доставка до 30 дни.
Out of Stock
30 days delivery




Harakiri, Serj's newest solo album, comes out July 10th on Reprise Records/Serjical Strike and is the follow up to 2010's critically acclaimed Imperfect Harmonies. The album is the third solo release from the System Of A Down front man. As with 2007's Elect the Dead and Imperfect Harmonies, Serj produced Harakiri himself at his home studio in Los Angeles. He tried to approach writing a little differently this time around "I used the Apple iPad as a songwriting instrument to sketch out three of the songs on the record" explains Serj. "We must trick ourselves into writing in different ways to get unexpected results." The album will also feature performances by Serj's touring band, The F.C.C. - Dan Monti on guitar, Mario Pagliarulo on bass, and Troy Zeigler on drums. Dan Monti is also co-mixing and co-engineering the album with Serj. The album is mastered by Vlado Meller (Metallica, Red Hot Chili Peppers, Kanye West) Serj himself uses each of the song titles (in bold) to describe Harakiri:
"The Cornucopia of love/hate affairs with Gaia have made us scream "Fuck! Let's Figure It Out! CEOs are the disease." Where abusive capitalism's only fate is human/environmental devastation. The Ching Chime, diminutive drama of a gangsta Butterfly revealed that humanity's tears actually outweigh yearly rainfall on the planet. We have witnessed Harakiri on a grand scale tearing out the Occupied Tears of victims preyed on by victims turned aggressors creating a Deafening Silence through which we hear a voice plead, "Forget Me Knot, my child." Reality TV has become the searing indictment of a society best described as the Uneducated Democracy. The daughters of the evolution Weave On with blood dripping down their guilty hands onto the flag as the word republic is replaced by empire." – Serj Tankian
All songs written, performed, and produced by Serj Tankian.
TRACKLIST:
1. "Cornucopia" Serj Tankian Serj Tankian 4:28
2. "Figure It Out" Serj Tankian Serj Tankian 2:52
3. "Ching Chime" Serj Tankian Serj Tankian 4:05
4. "Butterfly" Serj Tankian Serj Tankian 4:10
5. "Harakiri" Serj Tankian Serj Tankian 4:19
6. "Occupied Tears" Serj Tankian Serj Tankian 4:22
7. "Deafening Silence" Serj Tankian Serj Tankian 4:16
8. "Forget Me Knot" Serj Tankian Serj Tankian 4:26
9. "Reality TV" Serj Tankian Serj Tankian 4:09
10. "Uneducated Democracy" Serj Tankian Serj Tankian 3:59
11. "Weave On" Steven Sater Serj Tankian 4:07
Total length: 45:18