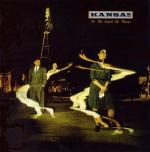 ДРУГИ АРТИКУЛИ НА
KANSAS:





Artist: KANSAS
Album: "IN THE SPIRIT OF THINGS REMASTERED (DIGI)"

Year: 1988/ 2012
Media type: CD


Цена: 24.00 лв. (BGN)

Cat. No.: WIZ00014256
Label: METAL MIND
Genre: Progressive/ NEO Progressive/ Instrumental Rock, Hard Rock



Статус: Артикулът е временно изчерпан!
Доставка до 30 дни.
Out of Stock
30 days delivery




In the Spirit of Things is the 11th studio album by American rock band Kansas, released in 1988. It is a very loosely organized concept album telling the story of a flood hitting the real Kansas city of Neosho Falls in 1951. The album is often cited by lead vocalist, keyboardist, and songwriter Steve Walsh as his favorite Kansas album. Its odd mixture of hard rock, progressive rock, and '80s power ballads (forced on the band by MCA Records, which selected outside songwriters in an attempt to generate hit singles) failed to catch on with a mass audience but it remains a cult favorite among Kansas fans. It was the first Kansas album since 1975's Masque to lack a hit single.
TRACKLIST:
1."Ghosts" (Bob Ezrin, Steve Morse, Steve Walsh) – 4:18
2."One Big Sky" (Phil Ehart, M. Ehmig, Ezrin, H. Kleinfeld, Walsh) – 5:17
3."Inside of Me" (Morse, Walsh) – 4:42
4."One Man, One Heart" (Dann Huff, Mark Spiro) – 4:20
5."House on Fire" (Ehart, Ezrin, Morse, Walsh) – 4:42
6."Once in a Lifetime" (Antonina Armato, Albert Hammond, Dennis Morgan) – 4:14
7."Stand Beside Me" (Bruce Gaitsch, Marc Jordan) – 3:28
8."I Counted on Love" (Morse, Walsh) – 3:33
9."The Preacher" (Morse, Walsh) – 4:18
10."Rainmaker" (Ezrin, Morse, Walsh) – 6:44
11."T.O. Witcher" (Morse) – 1:39
12."Bells of Saint James" (Morse, Walsh) – 5:39
LINE-UP:
Phil Ehart - drums
Billy Greer - bass, vocals
Steve Morse - guitars, vocals
Steve Walsh - keyboards, vocals
Rich Williams - guitars
Additional personnel:
Terry Brock - vocals, background vocals
Rev. James Cleveland - vocals, background vocals
Steve Croes - keyboard, synclavier
Bob Ezrin - percussion, vocals, background vocals
Ricky Keller - synthesizer
John Pierce - bass, fretless bass
Greg Robert - keyboard, vocals, background vocals
Southern California Community Choir - chorus
Christopher Yavelow - synthesizer, Kurzweil synthesizer