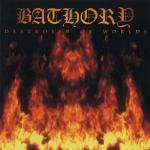 ДРУГИ НАЛИЧНИ АРТИКУЛИ НА
BATHORY:





Artist: BATHORY
Album: "DESTROYER OF WORLDS (CD)"

Year: 2001
EAN/UPS: 4012743061527
Media type: CD


Цена: 24.00 лв. (BGN)

Cat. No.: WIZ00014172
Label: Black Mark
Genre: Epic Pagan Viking Metal/ Folk Metal, Black Metal/ Atmospheric/ Dark Metal



Статус: Артикулът е временно изчерпан!
Доставка до 30 дни.
Out of Stock
30 days delivery




Destroyer of Worlds refers to the tenth full-length album release by Bathory. It takes its name from a famous quote by J. Robert Oppenheimer about the atomic bomb, "I am become death, destroyer of worlds," which was itself mistakenly quoted from a verse in the Bhagavad Gita.[1] Stylistically, Destroyer of Worlds is a cross between the Viking metal of Bathory's 1988-1991 period and the retro-thrash metal of Requiem and Octagon, as can be heard in "Bleeding", "109", "Death from Above", "Liberty & Justice", and "Kill Kill Kill". It is Bathory's longest studio album.
All songs written and composed by Quorthon.
TRACKLIST:
1. "Lake of Fire" 5:43
2. "Destroyer of Worlds" 4:51
3. "Ode" 6:27
4. "Bleeding" 3:55
5. "Pestilence" 6:50
6. "109" 3:36
7. "Death from Above" 4:35
8. "Krom" 2:50
9. "Liberty & Justice" 3:52
10. "Kill Kill Kill" 3:09
11. "Sudden Death" 3:19
12. "White Bones" 8:35
13. "Day of Wrath" 8:15
Total length: 65:57
LINE-UP:
Quorthon - Guitars, Vocals, Bass, Percussion, Drums