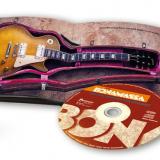 Artist: JOE BONAMASSA
Album: "DRIVING TOWARDS THE DAYLIGHT LTD. EDIT. (DIGI-BOOK)"

Year: 2012
Media type: CD


- Digibook packaging with 72-page booklet with extensive guitar aficionado story. Limited first print run only [!]
- Joe Bonamassa has sold well over 1 million records. His previous album "Dust Bowl" charted top 50 in 13 European countries [!]


Цена: 28.00 лв. (BGN)

Cat. No.: WIZ00014164
Label: Mascot
Genre: Southern Rock/ Blues



Статус: Наличен / In Stock




On May 21, 2012, internationally renowned guitar superstar Joe Bonamassa will release a brand new solo album Driving Towards The Daylight on Provogue Records, a label of Mascot Label Group. Driving Towards The Daylight was produced by Kevin "Caveman" Shirley (Black Crowes, Aerosmith, Led Zeppelin). This is their seventh collaboration in six years and Joe's 13th album. Shirley most recently produced Bonamassa's 2011 release Dust Bowl – his best-selling album to date; and the 2011 sophomore album 2 from Black Country Communion, Bonamassa's hard rock band with Glenn Hughes (Deep Purple), Jason Bonham (Led Zeppelin, Foreigner) and Derek Sherinian (Dream Theater, Billy Idol).
Recorded at The Village Recorder in Los Angeles, CA and Studio At The Palms in Las Vegas, NV, Driving Towards The Daylight is a balanced back-to-basics album that highlights Bonamassa's signature style of roots blues with rock-and-roll guts, while honoring the traditions of the original blues musicians. "We've taken some really traditional old blues songs – the Howlin' Wolf song 'Who's Been Talkin' and the Robert Johnson song 'Stones In My Passway,' and we've tried to imagine how they would do them in a rock context," said Shirley. "It's a very exciting return to the blues in a very visceral way. It's vibrant and it's gutsy and it's really, really rugged."
The album features five Bonamassa-penned originals including the bruising opener "Dislocated Boy," the road warrior title track (and first single) "Driving Towards The Daylight," "I Got All You Need," "Heavenly Soul," and "Somewhere Trouble Don't Go." Other tracks include Bonamassa's versions of Tom Waits' "New Coat Of Paint," Bill Withers' "Lonely Town Lonely Street," and "A Place In My Heart" by Bernie Marsden. On the album closer, Australian rock singer Jimmy Barnes sings lead vocals on his 1987 hit "Too Much Ain't Enough Love."
TRACKLIST:
1. Dislocated Boy
2. Stones In My Passway
3. Driving Towards The Daylight
4. Who's Been Talking
5. I Got All You Need
6. A Place In My Heart
7. Lonely Town Lonely Street
8. Heavenly Soul
9. New Coat Of Paint
10. Somewhere Trouble Don't Go
11. Too Much Ain't Enough Love (w/ Jimmy Barnes)