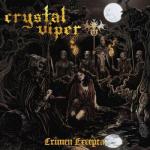 ДРУГИ НАЛИЧНИ АРТИКУЛИ НА
CRYSTAL VIPER:





Artist: CRYSTAL VIPER
Album: "CRIMEN EXCEPTA (CD)"

Year: 2012
Media type: CD


- Highly-anticipated 4th studio album of the Polish female-fronted heavy metal masters CRYSTAL VIPER. Great, powerful new songs that combine epic heavy metal, U.S.-style power metal and horror elements. Bonus tracks: cover versions of VADER (feat. Vader vocalist Peter), DEMON (Vinyl only bonus!!) and the song 'Ghosts Of Sherwood", which was composed as a soundtrack for an upcoming Robin Hood movie in 3D. The title track also features David Bower of the Metal Legends HELL on vocals [!]
- Cover painted by Chris Moyen (SLAYER, TRIVIUM, BEHERIT, BLASPHEMY etc.) + recorded and produced in the MP Studios (Sabaton, Lonewolf) with Bart Gabriel (Sacred Steel, Mortician). Limited first pressing of 'Crimen Excepta" includes a pendant with the band logo [!]





Цена: 22.00 лв. (BGN)

Cat. No.: WIZ00014095
Label: AFM
Genre: Power Heavy Metal



Статус: Наличен / In Stock




How to sum up the new CRYSTAL VIPER album, "Crimen Excepta"? It's heavy and dark, but still very classic. Old school influences of bands such as Mercyful Fate, are mixed here with riffs that could land on some classic Iron Maiden album, and die hard Metal attitude of bands such as Nifelheim - not to forget about amazing vocals of Marta Gabriel, who sounds like the younger sister of Chastain's Leather Leone. Welcome to the world of CRYSTAL VIPER: a world full of Flying Vs, tube amplifiers, real drums, leather and chains! This is Heavy Metal all the way!
TRACKLIST:
CD Vinyl
01. Witch's Mark
03. Child Of The Flame
05. It's Your Omen
07 Crimen Excepta
(feat. David Bower/ HELL)
09. Medicus Animarum
11. The Spell Of Death
13. Hope Is Gone, Here's New Law
15. Fire Be My Gates
Bonus tracks:
17. Tyrani Piekiel
(VADER cover feat. Peter / Vader)
18. Ghosts Of Sherwood