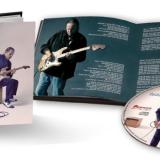 Artist: WALTER TROUT
Album: "BLUES FOR THE MODERN DAZE LTD. EDIT. (DIGI)"

Year: 2012
Media type: CD


- Special digipack packaging with 60-page booklet with lifetime story. Limited first print run only [!]

- Walter Trout has achieved legendary status in the industry having been on hundreds of records in his 30 plus year career! Blues For The Modern Daze is his 21st album one of Trout's best albums to date! Walter Trout has mesmerized guitar fans around the globe with his masterful phrases and unique style [!]



Цена: 26.00 лв. (BGN)

Cat. No.: WIZ00014088
Label: Mascot
Genre: Southern Rock/ Blues



Статус: Артикулът е временно изчерпан!
Доставка до 30 дни.
Out of Stock
30 days delivery




Walter Trout's passionate new Blues for the Modern Daze cuts right to the core of his art and his heart. His 21st album returns the contemporary guitar legend to his hard-core blues roots and finds his songwriting at a creative and personal zenith.
Trout's sixth recording for Provogue Records is his first pure blues album in 23 years as a bandleader, which is astounding given his heavy resume in the genre. Trout spent five years in John Mayall's Bluesbreakers and was a member of Canned Heat, two of the style's supremely influential bands. He's also supported a slew of classic artists including John Lee Hooker, Big Mama Thornton and Joe Tex. Nonetheless, as a front man the six-string virtuoso developed a conflagrant approach to his instrument and a reputation for tornado-strength live shows that led famed BBC disc jockey Bob Harris to call him "the world's greatest rock guitarist" in his influential book The Whispering Years and won Trout the sixth spot on BBC Radio One's list of the Top 20 guitarists of all time.
"I thought it would be exciting to make a blues album now," Trout explains. "I liked the idea of capturing the energy of my touring band playing live in the studio, and in terms of subject matter, the state of the world is perfect for writing blues songs."
And Trout is at the height of his game as a songwriter. With 2010's Common Ground, he reached a new level of honesty and expression in numbers like the prayerful, plainspoken title track. Blues for the Modern Daze is electrified by that quality, bringing insight on the human condition to the yearning "Lonely," a song about isolation and estrangement in an age where personal relationships are replaced by virtual friendships on-line, and a perceptive sweep of the toll of climate change, conjuring visions of the Dust Bowl as well as the personal losses within today's crippled farm economy in the set's concluding number "Pray For Rain."
That finger picked solo acoustic performance gets directly to the bones of Blues for the Modern Daze. "My main inspiration for this album was the country bluesman Blind Willie Johnson," Trout explains. Johnson was an early blues innovator who recorded such timeless gospel informed blues numbers as "Soul of a Man" and "Nobody's Fault But Mine." "His music is so beautiful, primal, direct and deeply spiritual that I wanted to feel it at my back when we were cutting these songs."
The influence of old-school country blues also made its way into the tracks via the open and modal tunings Trout employed on several tunes. "I've never done that to such an extent before," he notes, "but it was another way for me to marry the contemporary subjects and modern electric guitar sounds in these songs with tradition. It was important for me to make an album that was contemporary and traditional at the same time."
"Not only does Blues for the Modern Daze capture my interest in exploring a side of my music that's rooted in my first musical love, it reveals something about me, too," he explains. "It sums up the thoughts and attitudes of somebody who is getting a little older and is feeling a little like he's a part of another era, with different values and a different perspective on life than often seem to be prevalent today. And I stand behind those values, like compassion, authenticity and honesty, as strongly as I stand behind my music."

TRACKLIST:
1. Saw My Mama Cryin
2. Lonely
3. The Sky Is Fallin' Down
4. Blues For My Baby
5. You Can't Go Home Again
6. Recovery
7. Turn Off Your TV
8. Lifestyle Of The Rich And Famous
9. Never Knew You Well
10. Puppet Master
11. Money Rules The World
12. All I Want Is You
13. Brother's Keeper
14. Blues For The Modern Daze
15. Pray For Rain