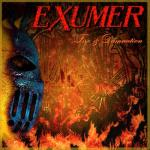 ДРУГИ АРТИКУЛИ НА
EXUMER:





Artist: EXUMER
Album: "FIRE & DAMNATION (CD)"

Year: 2012
Media type: CD


- Legendary German THRASH band with first album of new material in 25 years [!]

- ВРЕМЕННО НАМАЛЕНИЕ!! ВАЖИ ДО ИЗЧЕРПВАНЕ НА ОПРЕДЕЛЕНИТЕ КОЛИЧЕСТВА!!





Цена: 18.00 лв. (BGN)

Cat. No.: WIZ00014068
Label: METAL BLADE
Genre: Thrash Metal/ Speed



Статус: Артикулът е временно изчерпан!
Доставка до 30 дни.
Out of Stock
30 days delivery




Formed in 1985, by singer/bassist Mem V. Stein and guitarist Ray Mensh, EXUMER released two albums in 1986 (Possessed by Fire), and 1987 (Rising from the Sea), that are regarded as some of the most cult thrash metal releases ever to come out of Germany. EXUMER was also one of the first thrash metal acts to capture exotic, foreign markets like Poland and Brazil, where their albums were domestically released in the 1980s. The subsequent tours that followed those releases secured the band live shows in front ofthousands of fans and an unusually large following outside of Germany.
Plagued by line-up changes and internal turmoil the band broke up in 1990, and did not perform live, with the exception in 2001 at the prestigious Wacken Open Air Festival, until 2009. Mem and Ray decided to re-activate EXUMER in 2008, and the band embarked on their first tour since 1988, where they played 5 shows in April/May of 2009. The "5 Nights of Fire Tour", took the band through Europe (Germany, Holland, Greece), and the USA, where they headlined the "Thrasho de Mayo Festival", in front of 1300 fans in Los Angeles. EXUMER returned to Europe in spring and the fall of 2010, where the band appeared at Norway's "Inferno Festival", among other stops in Italy, Germany, Switzerland, Poland and Bulgaria during their "European Ignition Tour Part I & II".
In 2011, EXUMER completed writing and arranging material for their first new album release in 24 years. The band chose Waldemar Sorychta (Grip Inc., Therion, Sodom, Moonspell), to produce their 10-track strong, hard hitting CD. Combining punishing production with aggressive song writing, EXUMER manages to capture the intensity and feel of the 1980s thrash metal gems while attaining modern sonic density.
The new album will catapult EXUMER back to the forefront of the international music markets and the following live assaults in 2012 will only further cement the band's cult status among the ranks of classic thrash metal acts of the world.
TRACKLIST:
01 Fire & Damnation
02 Vermin of the Sky
03 The Weakest Limb
04 A New Morality
05 Waking the Fire
06 Fallen Saint
07 Crushing Point
08 Devil Chaser
09 I Dare You
10 Tribal Furies