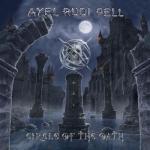 ДРУГИ АРТИКУЛИ НА
AXEL RUDI PELL:





Artist: AXEL RUDI PELL
Album: "CIRCLE OF THE OATH LTD. EDIT. (DIGI)"

Year: 2012
EAN/UPS: 886922600302
Media type: CD


- High class digipak with 1 bonus live track and poster [!]

- The last studio album "The Crest" (2010) charted high in Germany, Switzerland, Sweden and Finland and sold over 35.000 copies `til now. 10 brandnew AXEL RUDI PELL tracks incl. the sequel of "The Masquerade Ball" (one of his most successful albums). Produced by Axel Rudi Pell, mixed by Charlie Bauerfeind (Helloween, Blind Guardian, Saxon) [!]




Цена: 28.00 лв. (BGN)

Cat. No.: WIZ00013937
Label: SPV
Genre: Hard Rock



Статус: Артикулът е временно изчерпан!
Доставка до 30 дни.
Out of Stock
30 days delivery




Axel Rudi Pell's career began in 1980 with the band, Steeler, who sold over 30,000 copies of their commercially most successful release, Strike Back, and brought out their fourth and final album, Undercover Animal, in 1988. In November of that year, Pell formed his own group together with Jцrg Deisinger (ex-Bonfire), drummer Jцrg Michael, bassist Thomas Smuszynski (ex-U.D.O.) and the American vocalist, Charlie Huhn (Ted Nugent, Gary Moore, Victory). Their debut album, Wild Obsessions, arrived at the stores one year later, followed by Nasty Reputation, for whom Pell enlisted the American frontman, Rob Rock (M.A.R.S, Impellitteri), who was replaced during the subsequent German tour by former Malmsteen vocalist, Jeff Scott Soto. With Soto as a new member, the third album, Eternal Prisoner (1992), was undeniable proof that the band had found their own, unmistakable style. One year later, Pell brought out The Ballads, an album featuring his most accomplished rock ballads. With Between The Walls (1994) and the live recording, Made In Germany, the guitarist from Bochum held on to his typical style even in the post-grunge era. The subsequent Black Moon Pyramid (1996) was the second Pell album in succession to make the German album charts. 1997 saw the arrival of Pell's eighth offering, Magic, featuring a thematically consistent concept based on supernatural stories. Magic also entered the charts, followed by Oceans Of Time, the commercially most successful album at that time by the Axel Rudi Pell band, and the continuation of Pell's ballad concept (The Ballads II, 1999). Following the departure of Jeff Scott Soto, Pell enlisted American vocalist Johnny Gioeli (ex-Hardline) for the production of Oceans Of Time, The Ballads III and his 2000 release, Masquerade Ball. His characteristic voice also enhanced the subsequent releases, Shadow Zone (2002) and Kings & Queens (2004), as well as the highly accomplished Mystica (2006) and the covers album, Diamonds Unlocked. Tales Of The Crown (2008 surprised with a number of innovations and made no. 41 of the German album charts. The Crest in 2010 was set to repeat this triumphal march reaching high places in the charts of Germany, Switzerland, Sweden and Finland. 2011 saw the release of The Ballads IV incl. the hit single "Hallelujah".
TRACKLIST:
1. The Guillotine Suite (Intro) 01:52
2. Ghost In The Black 04:36
3. Run With The Wind 04:42
4. Before I Die 04:29
5. Circle Of The Oath 09:20
6. Fortunes Of War 05:19
7. Bridges To Nowhere 07:10
8. Lived Our Lives Before 06:31
9. Hold On To Your Dreams 05:47
10. World Of Confusion (The Masquerade Ball Pt. II) 09:30
11. Temple Of The King – bonus track (Live at Bang Your Head 2011) 10:14
LINE-UP:
Johnny Gioeli (Ex-Hardline, band with Neal Schon of Journey)
Ferdy Doernberg (Rough Silk, he also played with Uli Jon Roth, Therion and many others)
Volker Krawczak (he played also bass in Steeler)
Mike Terrana (current Tarja-drummer, he played also with Yngwie Malmsteen, Masterplan and was a member of Rage)