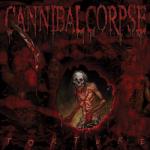 ДРУГИ НАЛИЧНИ АРТИКУЛИ НА
CANNIBAL CORPSE:





Artist: CANNIBAL CORPSE
Album: "TORTURE LTD. EDIT. (DIGI)"

Year: 2012
EAN/UPS: 039841508024
Media type: CD


Цена: 24.00 лв. (BGN)

Cat. No.: WIZ00013905
Label: METAL BLADE
Genre: Old Skull/ Melodic Death Metal



Статус: Артикулът е временно изчерпан!
Доставка до 30 дни.
Out of Stock
30 days delivery




From the moment the aptly titled "Demented Aggression" explodes to life in a storm of blistering riffs and turbulent drums it is unequivocally apparent that the band are at their ruthless best, and everything that follows backs this up vehemently. From the monstrous chugging of "Sarcophagic Frenzy" to the deeply sinister "Followed Home Then Killed" or the loping evil of "Scourge of Iron", every track hits with sledgehammer force, and each one boasts its own hideous character, the band refusing to repeat themselves at any point. "While we make everything as heavy as possible there's a very strong emphasis placed on song writing in this band, trying to make every song individual, and I think you should be able to hit play at any point on a record and be able to tell one song from another almost instantly," states bassist Alex Webster. "We want all the songs to be brutal death metal, but we also want them to be instantly identifiable from one another, and that's something that is definitely true of the songs on Torture."
Webster also believes that stability in the band's ranks greatly contributes to the record's strength, Torture being the third consecutive album featuring the current lineup of himself and co-founding member Mazurkiewicz, alongside guitarists Rob Barrett and Patrick O'Brien, and vocalist George "Corpsegrinder" Fisher. "The band is at its strongest right now, and I think we're at our very peak as far as playing ability and song writing maturity. As a result of that this is the album where we've been able to finally best get across what we wanted to do as players and as song writers." Equally, this is their third release to be helmed by producer Erik Rutan (of Hate Eternal fame), and while Kill and Evisceration Plague were recorded entirely at Rutan's MANA studio in St. Petersburg, Florida, this time out the sessions were split between MANA and Sonic Ranch, in Tornillo, Texas. Having tracked 1999's Colin Richardson-produced Bloodthirst, as well as 2002's Gore Obsessed and 2004's The Wretched Spawn (both produced by Neil Kernon) at Sonic Ranch, the band were keen to once again experience the isolation of working essentially in the middle of nowhere, this time with Rutan calling the shots.
"The studio is about forty miles outside of El Paso, and we made a point of not having a rental car so we were stuck there, that way all we could think about was the record," Webster states. "When we record in Florida usually the only guy in the studio with Erik is the one recording that day, and having us all together rather than scattered really helped us focus and totally immerse ourselves in the music, and I think that it's a far better record for it." This approach has resulted in a record that not only delivers a devastating punch but also eschews merely replicating the sound of their previous collaborations, and Mazurkiewicz asserts that their relationship with the producer is a tremendously beneficial one. "He's a death metal guitar player and a death metal singer, which makes him 'one of us'. On top of that he's a great guy, a workaholic, and a great motivator because he's not only an extremely talented peer but he's always nitpicking and doing what he's got to do to make everything better. He pushes us to make the best possible record and does what needs to be done to give it a distinctive sound of its own."
Though the band continue to dwell on dark and disturbing lyrical areas, they long ago transcended the early notoriety bestowed upon them (based solely upon their artwork and lyrics) through proving themselves one of the best – and hardest working – live bands in modern heavy music. As such, while they certainly stand defiant as part of the old guard in death metal, through their devotion to touring and consistently releasing bigger and better records they have retained both their relevance and bite while many of the bands that hacked their way out of the scene twenty years ago have fallen by the wayside. Equally, as the genre's profile has begun to once again grow in recent years the band do not concern themselves with thoughts of being dethroned by younger generations of bands following in their wake.
"We get inspired by seeing these other bands doing killer music, but we definitely don't feel threatened by it," Webster states. With a great many contemporary death metal bands perhaps overly concerned with being recognized as the 'fastest' or 'most technical', the art of the song itself seems often overlooked, and that is a trap Cannibal Corpse have never fallen into. "I am very into ultra-fast music that shows off chops, but I think that it's important to develop ability as a musician not to show off that ability but rather to use it to write killer songs. Writing a genuinely memorable, killer song is very challenging, but the best albums are the ones with the best songs, period."
In 2012, Cannibal Corpse have ensured that the twelve songs comprising Torture are the very best and therefore cohere to make the best possible album, though they are not content to rest upon their laurels and they are as hungry as ever to unleash their distinctive breed of aural horror upon heaving mosh pits. "I haven't been this excited about a release in a long time," enthuses Mazurkiewicz. "We worked so hard at it and we hope that the fans feel the same way we do. Being out there and getting to play these songs live will once again prove to people we're not going anywhere. We're not going through the motions, we're really trying to be the best band we can be, and we're just getting better."
TRACKLIST:
1 Demented Agression
2 Sarcophagic Frenzy
3 Scourge of Iron
4 Encased in Concrete
5 As Deep As the Knife Will Go
6 Intestinal Crank
7 Followed Home Then Killed
8 The Strangulation Chair
9 Caged...Contorted
10 Crucifier Avenged
11 Rabid
12 Torn Through
LINE-UP:
• George Fisher: Vocals
• Rob Barrett: Guitar
• Pat O'Brien: Guitar
• Alex Websterv Bass
• Paul Mazurkiewicz: Drums