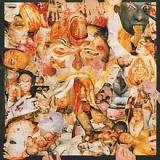 Artist: CARCASS
Album: "REEK OF PUTREFACTION (CD)"

Year: 1988/ 2003
Media type: CD


Цена: 20.00 лв. (BGN)

Cat. No.: WIZ00013874
Label: EARACHE
Genre: Old Skull/ Melodic Death Metal



Статус: Артикулът е временно изчерпан!
Доставка до 30 дни.
Out of Stock
30 days delivery




Reek of Putrefaction is the debut album by the British extreme metal band Carcass. It was released by Earache Records in 1988. When released, Reek of Putrefaction reached #6 on the UK Indie Chart, establishing Carcass as one of the pioneers of the grindcore genre. The late BBC Radio 1 DJ John Peel declared it his favourite album of 1988, in an interview for British newspaper The Observer.
ProductionReek of Putrefaction was recorded in four days at a small studio in Birmingham. According to Bill Steer, the studio's engineer "ruined" the record, especially its drum tracks. Carcass had only had a few hours available of mixing, so they had to release the LP as it was to meet the label's deadline. The band were "everything but happy" with the end result, declared Steer.
TRACKLIST:
1. "Genital Grinder" 1:32
2. "Regurgitation of Giblets" 1:24
3. "Maggot Colony" 1:37
4. "Pyosisified (Rotten to the Gore)" 2:55
5. "Carbonized Eyesockets" 1:11
6. "Frenzied Detruncation" 0:59
7. "Vomited Anal Tract" 1:45
8. "Festerday" 0:22
9. "Fermenting Innards" 2:35
10. "Excreted Alive" 1:21
11. "Suppuration" 2:19
12. "Foeticide" 2:46
13. "Microwaved Uterogestation" 1:24
14. "Feast on Dismembered Carnage" 1:27
15. "Splattered Cavities" 1:54
16. "Psychopathologist" 1:18
17. "Burnt to a Crisp" 2:43
18. "Pungent Excruciation" 2:31
19. "Manifestation of Verrucose Urethra" 1:02
20. "Oxidized Razor Masticator" 3:13
21. "Mucopurulence Excretor" 1:09
22. "Malignant Defecation" 2:14
LINE-UP:
Jeff Walker – vocals, bass guitar
Bill Steer – vocals, lead guitar
Ken Owen – drums, vocals
Sanjiv – vocals (tracks 23-35)