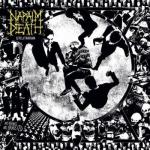 ДРУГИ АРТИКУЛИ НА
NAPALM DEATH:





Artist: NAPALM DEATH
Album: "UTILITARIAN (CD)"

Year: 2012
Media type: CD


Цена: 22.00 лв. (BGN)

Cat. No.: WIZ00013833
Label: Century Media
Genre: Old Skull/ Melodic Death Metal



Статус: Артикулът е временно изчерпан!
Доставка до 30 дни.
Out of Stock
30 days delivery




30 years of ultra-grindcore violence, 30 years of being one of the hardest working, hardest touring bands on this miserable planet, Napalm Death 's conviction, energy and belief in honest, outspoken yet extreme music is far from being watered down. 'Utilitarian,' the band's 14th studio album (excluding cover albums 'Leaders Not Followers' Pt. 1 and Pt.2) is no exception - with 16 tracks of vitriol that harness the band's full sonic arsenal to rail against politics, religion and greed. Features a guest appearance by celebrated saxophone terrorist and avant-garde legend John Zorn.
TRACKLIST:
1. Circumspect
2. Errors In The Signals
3. Everyday Pox
4. Protection Racket
5. The Wolf I Feed
6. Quarantined
7. Fall On Their Swords
8. Collision Course
9. Orders Of Magnitude
10. Think Thank Trials
11. Blank Look About Face
12. Leper Colony
13. Nom De Guerre
14. Analysis Paralysis
15. Opposites Repellent
16. A Gag Reflex