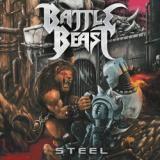 Artist: BATTLE BEAST
Album: "STEEL (CD)"

Year: 2012
EAN/UPS: 727361285326
Media type: CD


- Battle Beast from Finland! The winner of the Wacken Metal Battle Contest 2010 + Live Show at Wacken Open Air in 2011 [!]





Цена: 22.00 лв. (BGN)

Cat. No.: WIZ00013753
Label: NUCLEAR BLAST
Genre: Heavy Metal/ NWOBHM



Статус: Артикулът е временно изчерпан!
Доставка до 30 дни.
Out of Stock
30 days delivery




traditional Heavy Metal sound - bringing you high screams, old school riffs and strong choruses. In a nutshell: power!
In May 2010, BATTLE BEAST had the big opportunity to support ex-Iron Maiden singer BLAZE BAYLEY as they were performing in Finland during the "Promise and Terror"- tour. BATTLE BEAST played in 4 of 5 shows with another Metal band called MERGING FLARE on Blaze's tour in Finland and received nothing but positive feedback. Later that year the band attended the W:O:A Metal Battle in their home country and won the national contest, which enabled them to perform at the Wacken Open Air in Germany and represent Finland in the international Metal Battle finals. Battling 26 other bands from all around the world, BATTLE BEAST emerged victorious. Not only this splendid victory but also the honouring as "Radio Rock Star 2010" in August of 2010 by Finland's leading rock radio channel "Radio Rock" played a part in contributing to the ever-growing interest in the band on behalf of various renowned record labels. In November 2011, BATTLE BEAST jumped at the opportunity to sign a record deal with Nuclear Blast so that their previously self-released debut album "Steel" – which has only been purchasable in Finland so far – will be made available worldwide in January 2012. Furthermore, the sextet will support their label mates NIGHTWISH on the upcoming European part of their big world tour – check out http://bit.ly/syXgb9 for the dates!
The journey has just begun...
TRACKLIST:
1 - Enter The Metal World
2 - Armageddon Clan
3 - The Band Of The Hawk
4 - Justice And Metal
5 - Steel
6 - Die-Hard Warrior
7 - Cyberspace
8 - Show Me How To Die
9 - Savage And Saint
10 - Iron Hand
11 - Victory
12 - Stay Black
LINE-UP:
Nitte | vocals
Pyry | drums
Juuso | guitar
Janne| keyboards, orchestrations
Anton | guitar
Eero | bass