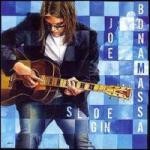 ДРУГИ НАЛИЧНИ АРТИКУЛИ НА
JOE BONAMASSA:





Artist: JOE BONAMASSA
Album: "SLOE GIN VINYL (180G LP)"

Year: 2007
Media type: LP


Цена: 34.00 лв. (BGN)

Cat. No.: WIZ00013735
Label: Mascot
Genre: Southern Rock/ Blues



Статус: Наличен / In Stock




Sloe Gin is Joe Bonamassa's seventh studio album. It was released in 2007 and was the second Bonamassa album produced by Kevin Shirley.
A child blues-guitar prodigy, New York State singer/six-stringer Joe Bonamassa racked up an impressive solo catalogue as a young adult by incorporating a restless rock edge into his well-honed sound. This 2007 acoustic-oriented outing finds Bonamassa presenting a typically excellent set, with both his passionate voice and dexterous guitar-playing in fine form, particularly on the gritty opener, "Ball Peen Hammer."
TRACKLIST:
1."Ball Peen Hammer", (Whitley) 3:27
2."One of These Days", (Alvin Lee) 5:40
3."Seagull", (Ralphs, Rodgers) 3:49
4."Dirt in My Pocket", (Bonamassa, James Huff) 4:54
5."Sloe Gin", (Ezrin, Kamen) 8:13
6."Another Kind of Love", (Mayall) 3:10
7."Around the Bend", (Bonamassa, Jennings) 5:15
8."Black Night", (Brown) 4:22
9."Jelly Roll", (Martyn) 2:12
10."Richmond", (Bonamassa, Mike Himelstein) 4:31
11."India", (Bonamassa, Rick Melick) 3:19
LINE-UP:
Joe Bonamassa (vocals, guitar)
Anton Fig (drums and percussion)
Carmine Rojas (bass)
Rick Melick (keyboards and tabla)
Bogie Bowles (drums on "Seagull" and hammer dulcimer)
Jeff Bova (orchestral arrangements)