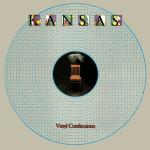 ДРУГИ АРТИКУЛИ НА
KANSAS:





Artist: KANSAS
Album: "VINYL CONFESSIONS RE-ISSUE (CD)"

Year: 1982/ 2016
EAN/UPS: 8718627223765
Media type: CD


Цена: 18.00 лв. (BGN)

Cat. No.: WIZ00013682
Label: Music On CD/ Sony
Genre: Progressive/ NEO Progressive/ Instrumental Rock



Статус: Артикулът е временно изчерпан!
Доставка до 30 дни.
Out of Stock
30 days delivery




DESPITE THE fact that Kansas went relatively unheard of in Europe, they were one of America's most successful rock bands during the mid to late '70s. Their brand of progressive pomp rock had spawned several multi platinum albums and hit singles, including the ubiquitous radio staples 'Carry On Wayward Son' and 'Dust In The Wind'. However, by the early 80s all was not well within the Kansas camp. Singer Steve Walsh had elected to leave the band, paving way for the appointment of a new vocalist, the previously unknown John Elefante. Recorded in Los Angeles at Chateau Recorders with producer Ken Scott (Supertramp, Jeff Beck) and featuring Queen's Roger Taylor on backing vocals, the band crafted a winning slice of melodic rock with all the twists and turns that you might expect from such masterful musicians. 'Vinyl Confessions', originally released in 1982, manages to remain true to the roots of Kansas, while at the same time noticeably moving from the band's traditional sound of the '70s into the more AOR-friendly '80s. The impact of spiritualism on this version of Kansas can certainly be heard in the lyrics, too, but it would be wrong to define this album as a Christian record. It doesn't attempt to bludgeon you to death with its message and, above all, it doesn't neglect the most important thing of all, which is, of course, the music.
TRACKLIST:
1. Play The Game Tonight
2. Right Away
3. Fair Exchange
4. Chasing Shadows
5. Diamonds And Pearls
6. Face It
7. Windows
8. Borderline
9. Play On
10. Cross Fire