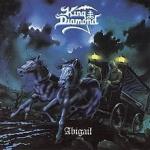 ДРУГИ АРТИКУЛИ НА
KING DIAMOND:





Artist: KING DIAMOND
Album: "ABIGAIL REMASTERED (CD)"

Year: 1987/ 1997
Media type: CD


Цена: 16.00 лв. (BGN)

Cat. No.: WIZ00013657
Label: Roadrunner
Genre: Heavy Metal/ NWOBHM



Статус: КОЛИЧЕСТВАТА ОТ ТОЗИ ФОРМАТ/АРТИКУЛ
СА ОКОНЧАТЕЛНО ИЗЧЕРПАНИ
И НЕ МОГАТ ДА БЪДАТ ДОСТАВЕНИ [!]
Permanently Out of Stock!




Abigail is the second King Diamond album and their first concept album. It was released in 1987 on Roadrunner Records. There were several re-releases, first in 1997 with 4 bonus tracks, and then a 25th Anniversary edition in 2005 with a bonus DVD.
Abigail tells the story about a young couple, Miriam Natias and Jonathan La'Fey, who move into an old mansion that La'Fey inherited. It takes place in the summer of 1845. At their arrival they are warned by seven horsemen not to move into the house because if they do "18 will become 9." They do not heed the warning and proceed to move into the mansion. During their first night, Jonathan meets with Count La'Fey, the Family Ghost, who is a deceased relative. The ghost shows him a casket in which a corpse of a stillborn child, Abigail, rests. The ghost informs him that Miriam is carrying the spirit of Abigail and that the child will soon be reborn. He asks Jonathan to kill his wife to prevent the rebirth. In the meantime, the story unfolds of what happened to the Count and his wife; she gave birth to Abigail on 7 July 1777. The Count had thrown her down the stairs, causing her neck to break as well as the death of Abigail, who was an illegitimate daughter. The next day, Miriam is clearly pregnant and the fetus develops quickly. Jonathan contemplates throwing her down the stairs, encouraged seemingly by his wife. However, Miriam throws him down the stairs and gives birth to Abigail. But Miriam does not survive the birth, and Abigail is left alone. At that moment the seven horsemen arrive again, planning to destroy Abigail once more.
TRACKLIST:
1. "Funeral" King Diamond 1:30
2. "Arrival" King Diamond 5:26
3. "A Mansion in Darkness" King Diamond, Andy LaRocque 4:34
4. "The Family Ghost" King Diamond 4:06
5. "The 7th Day of July 1777" King Diamond, Andy LaRocque 4:50
6. "Omens" King Diamond 3:56
7. "The Possession" King Diamond, Michael Denner 3:26
8. "Abigail" King Diamond 4:50
9. "Black Horsemen" King Diamond 7:40
Remaster bonus tracks:
10. "Shrine" King Diamond, Andy LaRocque 4:23
11. "A Mansion in Darkness (Rough Mix)" King Diamond, Andy LaRocque 4:34
12. "The Family Ghost (Rough Mix)" King Diamond 4:06
13. "The Possession (Rough Mix)" King Diamond, Michael Denner 3:26
LINE-UP:
King Diamond – vocals, producer
Andy LaRocque – guitar
Michael Denner – guitar, assistant producer
Timi Hansen – bass guitar
Mikkey Dee – drums, assistant producer
Roberto Falcao – engineer, keyboards