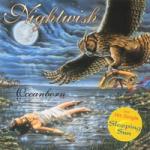 ДРУГИ АРТИКУЛИ НА
NIGHTWISH:





Artist: NIGHTWISH
Album: "OCEANBORN RE-ISSUE VINYL (LP)"

Year: 1998/ 2010
EAN/UPS: 00602547352378
Media type: LP


Цена: 45.00 лв. (BGN)

Cat. No.: WIZ00013627
Label: Universal
Genre: Symphonic/ Neo Classical Heavy Metal



Статус: Артикулът е временно изчерпан!
Доставка до 30 дни.
Out of Stock
30 days delivery




Oceanborn is the second album of Finnish symphonic power metal band Nightwish, released in December 1998 in Finland, and in the Spring of 1999 worldwide. Oceanborn is very different from its predecessor, the sound is much more towards power metal than Angels Fall First. The folk influence from Angels Fall First can still be heard on some parts, especially in the instrumental "Moondance". Most of the album is fantasy-themed with tracks like "Swanheart" and "Walking in the Air" (a cover from the animated motion picture, The Snowman), however other songs such as "Gethsemane" have a more religious feel to them. In addition, there are also some theatrical tracks like "Devil & the Deep Dark Ocean". Oceanborn is among their darker albums, making use of the harsh vocals of Tapio Wilska in the songs "The Pharaoh Sails to Orion" and "Devil & the Deep Dark Ocean". Since the album's release, "Sacrament of Wilderness" has remained a fan-favorite at concerts, and it's still performed often. Both "Sleeping Sun" and "Walking in the Air" have also been performed often on shows, but "Stargazers" has been dropped since vocalist Tarja Turunen's dismissal in 2005. "Walking in the Air" returned to the live setlist of the band at September 19, 2009 at Hartwall Arena, this time as an acoustic song and sung by the current vocalist Anette Olzon. The "hoi'ing" in otherwise instrumental "Moondance" is sung by Jukka Nevalainen, Tuomas Holopainen and Tapio Wilska, making it the only Nightwish song with vocals by Nevalainen.
TRACKLIST:
01. STARGAZERS
02. GETHSEMANE
03. DEVIL & THE DEEP DARK OCEAN
04. SACRAMENT OF WILDERNESS
05. PASSION AND THE OPERA
06. SWANHEART
07. MOONDANCE
08. THE RIDDLER
09. THE PHARAOH SAILS TO ORION
10. WALKIN' IN THE AIR
11. NIGHTQUEST
12. PASSION AND THE OPERA (SINGLE EDIT)