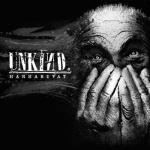 ДРУГИ АРТИКУЛИ НА
UNKIND:





Artist: UNKIND
Album: "HARHAKUVAT (CD)"

Year: 2011
Media type: CD


Цена: 22.00 лв. (BGN)

Cat. No.: WIZ00013622
Label: RELAPSE
Genre: Dark Pop/ Rock/ New Wave



Статус: Наличен / In Stock




Finland's UNKIND unleash a salvo of dark, ominous hardcore/punk on their Relapse debut 'Harhakuvat'. More than just orthodox d-beat/crust, UNKIND distill dystopian frustrations and anxieties, exploring deeper shades of darkness within ominous, desolate dirges. 'Harhakuvat' comes direct from the gut, with the urgency and true sense of purpose that hardcore/punk rock was built upon.
Recommended if You Like: TRAGEDY, NEUROSIS, MOTORHEAD, DISFEAR, AMEBIX, FROM ASHES RISE, DISCHARGE, DYSTOPIA, MUNICIPAL WASTE ... [!]
TRACKLIST:
1. Harhakuvat
2. Kaivannot
3. Laumasielut
4. Ylpea Perhe
5. Johtajat Ja Uhrit
6. Lasna
7. Tama Paiva
8. Koulutettu Epaonnistumaan