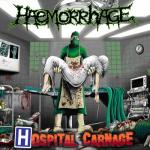 ДРУГИ АРТИКУЛИ НА
HAEMORRHAGE:





Artist: HAEMORRHAGE
Album: "HOSPITAL CARNAGE (CD)"

Year: 2011
Media type: CD



- The first album in over 5 years from the Spanish masters of goregrind [!]



Цена: 22.00 лв. (BGN)

Cat. No.: WIZ00013304
Label: RELAPSE
Genre: Grindcore



Статус: Наличен / In Stock




Spanish splatter stalwarts HAEMORRHAGE emerge as leaders from the nefarious goregrind ranks with their newest slab Hospital Carnage. Hospital Carnage features fifteen ferocious new tracks of murderous death metal, replete with guttural vocals, meaty riffs, and powerful blast beats that convey the primordial spirit of the genre's early days. Recommended if You Like: (early) CARCASS, CANNIBAL CORPSE, REPULSION, CATTLE DECAPITATION, EXHUMED, DEVOURMENT, THE COUNTY MEDICAL EXAMINERS, CANNIBAL CORPSE, NAPALM DEATH, and SIX FEET UNDER ...
TRACKLIST:
1. Open Heart Butchery
2. Traumaggedon
3. Resuscitation Manoeuvres
4. Flesh-Devouring Pandemia
5. Fomite Fetish
6. Amputation Protocol
7. 911 (Emergency Slaughter)
8. Doctors of Malpractice
9. Tumour Donor
10. Hospital Thieves
11. Splatter Nurse
12. Hypochondriac
13. Ingreso Cadaver
14. Necronatology
15. Intravenous Molestation of Obstructionist Arteries (O-Pus VI)