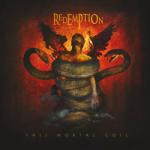 ДРУГИ АРТИКУЛИ НА
REDEMPTION:





Artist: REDEMPTION
Album: "THIS MORTAL COIL (CD)"

Year: 2011
Media type: CD


Цена: 25.00 лв. (BGN)

Cat. No.: WIZ00013264
Label: Century Media
Genre: Progressive/ Instrumental Metal



Статус: Артикулът е временно изчерпан!
Доставка до 30 дни.
Out of Stock
30 days delivery




THIS MORTAL COIL, which was recorded and mixed by legendary producer Neil Kernon (Queensryche, Nevermore, Kansas, etc.) and comes packaged with strongly symbolical artwork by acclaimed artist and longtime band collaborator Travis Smith (Opeth, Avenged Sevenfold, Nevermore, etc.), is a union of REDEMPTION's established full-on metal direction of the last five years and the prog metal sound of their early days. The end result is a record that appeals to anyone with a mind for shred with substance, guaranteed to please diehard REDEMPTION fans and win over new ones along the way.
TRACKLIST CD:
1. Path Of The Wirlwind Redemption 05:26
2. Blink Of An Eye Redemption 05:57
3. No Tickets To The Funeral Redemption 06:26
4. Dreams From The Pit Redemption 09:11
5. Noonday Devil Redemption 05:03
6. Let It Rain Redemption 07:21
7. Focus Redemption 05:43
8. Perfect Redemption 04:48
9. Begin Again Redemption 06:11
10. Stronger Than Death Redemption 05:29
11. Departure Of The Pale Horse Redemption 10:15