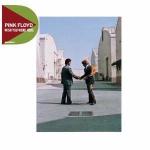 ДРУГИ НАЛИЧНИ АРТИКУЛИ НА
PINK FLOYD:





Artist: PINK FLOYD
Album: "WISH YOU WERE HERE DISCOVERY EDIT. (DIGI)"

Year: 1975/ 2011
EAN/UPS: 5099902894522
Media type: CD


Цена: 24.00 лв. (BGN)

Cat. No.: WIZ00013257
Label: Pink Floyd Records
Genre: Progressive/ NEO Progressive/ Instrumental Rock



Статус: Наличен / In Stock




On its release in 1975 Wish You Were here topped the album charts in both the UK and the US. Reflecting the band's thoughts of the time on the music business, and exploring themes of absence, Wish You Were Here contains the classic cut Shine On You Crazy Diamond, a tribute to founder member Syd Barrett. The new Discovery version presents the original studio album, digitally remastered by James Guthrie and reissued with newly designed Digipak and a new 16 page booklet designed by Storm Thorgerson. Since 1967 Pink Floyd have produced one of the most outstanding and enduring catalogues in the history of recorded music. The original Studio album has now been painstakingly digitally remastered by James Guthrie (co-producer of The Wall), and is reissued with newly crafted packaging and booklet created by the band's long-time artwork collaborator Storm Thorgerson. 'Discovery' albums are designed as an introduction to the artist, with all booklets including full album lyrics.
TRACKLIST:
1. Shine On You Crazy Diamond (Part One) (1-5)
2. Welcome To The Machine
3. Have A Cigar
4. Wish You Were Here
5. Shine On You Crazy Diamond (Part Two) (6-9)