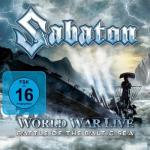 ДРУГИ АРТИКУЛИ НА
SABATON:





Artist: SABATON
Album: "WORLD WAR LIVE... BATTLE OF THE BALTIC SEA (CD)"

Year: 2011
EAN/UPS: 727361272524
Media type: CD


Цена: 22.00 лв. (BGN)

Cat. No.: WIZ00013167
Label: NUCLEAR BLAST
Genre: Power Heavy Metal



Статус: Артикулът е временно изчерпан!
Доставка до 30 дни.
Out of Stock
30 days delivery




They are the band of the moment and they are marching towards the throne of Power Metal with maximum speed. After taking the entire world by storm with their latest record »Coat Of Arms« and the following "World War" tour that led the Swedes through sold out venues all around the globe, it now is the time to release a proper live document of the amazing power the sextett unleashes live on stage every night. The limited first edition of »World War Live: Battle Of The Baltic Sea« will include, besides the regular CD (SABATON Cruise 2010), a bonus CD with a nearly completely different setlist and a bonus DVD with the entire Rockstad Falun 2008 show. Get ready for battle!

TRACKLIST CD :
"CD Battle At The Baltic Sea (Live at the Sabaton cruise, Dec. 2010): (77 min.)"
1 - The march to war (Live at the Sabaton Cruise, Dec. 2010) 1:20
2 - Ghost division (Live at the Sabaton Cruise, Dec. 2010) 3:53
3 - Uprising (Live at the Sabaton Cruise, Dec. 2010) 6:06
4 - Aces in exile (Live at the Sabaton Cruise, Dec. 2010) 6:05
5 - Cliffs of Gallipoli (Live at the Sabaton Cruise, Dec. 2010) 6:33
6 - White death (Live at the Sabaton Cruise, Dec. 2010) 5:32
7 - Swedish pagans (Live at the Sabaton Cruise, Dec. 2010) 6:17
8 - Wolfpack (Live at the Sabaton Cruise, Dec. 2010) 5:47
9 - 40:1 (Live at the Sabaton Cruise, Dec. 2010) 5:41
10 - The art of war (Live at the Sabaton Cruise, Dec. 2010) 5:39
11 - Attero dominatus (Live at the Sabaton Cruise, Dec. 2010) 4:49
12 - The price of a mile (Live at the Sabaton Cruise, Dec. 2010) 6:26
13 - Primo Victoria (Live at the Sabaton Cruise, Dec. 2010) 5:00
14 - Metal medley (Live at the Sabaton Cruise, Dec. 2010) 5:09
15 - Dead soldiers waltz (Live at the Sabaton Cruise, Dec. 2010) 2:45
LINE-UP:
Joakim Broden | vocals
Par Sundstrom | bass
Rikard Sundin | guitar
Oskar Monelius | guitar
Daniel Mullback | drums
Daniel Myhr | keyboards