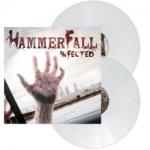 ДРУГИ АРТИКУЛИ НА
HAMMERFALL:





Artist: HAMMERFALL
Album: "INFECTED (2LP)"

Year: 2011
Media type: LP



- CLEAR VINYL IN GATEFOLD [!]

Цена: 38.00 лв. (BGN)

Cat. No.: WIZ00012877
Label: NUCLEAR BLAST
Genre: Power Heavy Metal



Статус: Артикулът е временно изчерпан!
Доставка до 30 дни.
Out of Stock
30 days delivery




INFECTED, the eighth studio album of the templars, marks the beginning of a new era for the quintet: for the first time since the turn of the millennium, and after almost ten years of cooperation, Charlie Bauerfeind did not produce the recording. "We took this step heavy-hearted, but it was inevitable in our opinion", the guitarist explains. "Because after such a long time of collaboration, routine was about to get into the production flow. And there is nothing more lethal for an artist than things becoming routine!" As a result of this, Dronjak filled the producer's role together with guitarist Pontus Nogren, assisted by James Michael (Scorpions, Motley Crue, Sixx: A.M.) as co-producer. The drums were recorded in Bohus Studios in Kungalv together with Tobias Lindell (Europe, Mustasch, Hardcore Superstar). Joacim Cans entrusted himself to James Michael as well, who worked diligently to inspire and excite the vocalist to perform on a different level than before. The result was outstanding, and the resulting mix by Michael cemented what they all had felt during the production: this was something special!

After the slow and meticulous opener "Patient Zero", the double-bass infested, HammerFall-like headbanger "Bang Your Head" and the slightly swinging "One More Time" with its subtle dramatic flair one thing is for sure: The five Swedes were able to combine their 80's roots and True Metal aspects of the first two albums perfectly with a fresh touch, which takes account both modern influences and listening habits of the 21st century. "This is HammerFall in 2011, the legend has been reborn!", exclaims Dronjak.
Further into the record, another lightly swinging uptempo anthem "The Outlaw" commends itself as a successor to 2001's RENEGADE, the beautiful Pokolgep-remake "Send Me A Sign", the melodic yet straightforward and harsh "Dia De Los Muertos" resting on teutonic laurels, and "I Refuse" - the album's heavyweight - marching from first beat to the last, enriched with massive grooves made in the USA. It doesn't matter whether you take "666 – The Enemy Within" with its dynamic rhythm alterations, the monolytic stamper "Immortalized", the irresistible MMA-influenced party anthem "Let's Get It On" or the melancholic opus "Redemption" marking an epic ending: INFECTED quickly turns out to be a fresh sounding, contagious heavy metal virus in every department, which surely will contaminate metalheads all around the world. No need for an immunization - there's no cure for it anyway! Get INFECTED!

SIDE A:
1 - Patient Zero 6:01
2 - B.Y.H. 3:48
3 - Dia De Los Muertos 5:08
SIDE B:
1 - One More Time 4:08
2 - The Outlaw 4:11
3 - Send Me A Sign 4:00
SIDE C:
1 - I Refuse 4:33
2 - 666 - The Enemy Within 4:29
3 - Immortalized 3:59
SIDE D:
1 - Let's Get It On 4:06
2 - Redemption 7:02

LINE-UP:
Joacim Cans - vocals
Oscar Dronjak - guitar
Pontus Norgren - guitar
Anders Johansson – drums
Fredrik Larsson – bass guitar