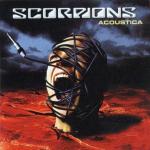 ДРУГИ НАЛИЧНИ АРТИКУЛИ НА
SCORPIONS:





Artist: SCORPIONS
Album: "ACOUSTICA (CD)"

Year: 2001
Media type: CD


Цена: 18.00 лв. (BGN)

Cat. No.: WIZ00012731
Label: SONY
Genre: Hard Rock



Статус: Артикулът е временно изчерпан!
Доставка до 30 дни.
Out of Stock
30 days delivery




Germany's Scorpions waited 'til 2001 to get on the unplugged bandwagon, but then they always were rather unfashionable. Recorded earlier the same year at live shows in Portugal, Acoustica is essentially a greatest-hits package, complete with the mandatory two new songs. It follows on the heels of Moment of Glory, their 2000 collaboration with the Berlin Philharmonic. Acoustica's recasting of the band's lite-rock legacy in the language of adult contemporary may be just what the doctor ordered. The track selection encompasses most of the big ballad hits from the post-Lovedrive era, plus a few covers (Kansas' "Dust in the Wind," "Drive" by the Cars, and Queen's "Love of My Life"). The power chords may be missing, but Acoustica is far from stripped down: guitarists Schenker and Jabs can't resist decorating most songs with pretty little acoustic guitar figures; this works in some cases, and it doesn't in others. The same goes for the Latino rhythm stylings, string sections, and lush backing vocals. The final result is a sort midtempo tastefulness.
TRACKLIST:
1 The Zoo 5:48
2 Always Somewhere 4:11
3 Life Is Too Short 5:18
4 Holiday 5:55
5 You & I 5:19
6 When Love Kills Love 4:54
7 Dust In The Wind 3:49
8 Send Me An Angel 5:24
9 Catch Your Train 3:41
10 I Wanted To Cry (But The Tears Wouldn't Come) 3:49
11 Wind Of Change 5:34
12 Love Of My Life 2:32
13 Drive 4:00
14 Still Loving You 6:11
15 Hurricane 2001 4:34