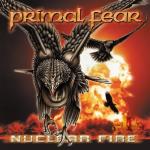 ДРУГИ АРТИКУЛИ НА
PRIMAL FEAR:





Artist: PRIMAL FEAR
Album: "NUCLEAR FIRE REMASTERED (DIGI)"

Year: 2001/ 2010
Media type: CD


Цена: 22.00 лв. (BGN)

Cat. No.: WIZ00012708
Label: METAL MIND
Genre: Power Heavy Metal



Статус: Артикулът е временно изчерпан!
Доставка до 30 дни.
Out of Stock
30 days delivery




Not many bands can boast such accomplishments as Primal Fear can. In over twelve years, the group managed to release eight LPs and become one of the most important members of the contemporary power metal scene. The exclusive re-release of the band's third studio album "Nuclear Fire" proves that true metal is still alive and kicking! The album was released in January 2001, once again proving the group's extraordinary talent. It starts off with "Angel In Black", which continues the tradition of phenomenal Primal Fear's openers. Other highlights are the ultra heavy, thrash-driven "Fight the Fire" and "Iron Fist in a Metal Glove", which sound much like a Metal Church track. "Nuclear Fire" became Primal Fear's most successful album to date, charting at #37 in Germany and #23 in Japan. The new digipak edition includes 3 bonus tracks (2 audio and 1 video) and is limited to 2000 copies. Remastered using tube technology, digitally edited on a golden disc.
TRACKLIST:
1. Angel In Black
2. Kiss Of Death
3. Back From Hell
4. Now Or Never
5. Fight The Fire
6. Eye Of An Eagle
7. Bleed For Me
8. Nuclear Fire
9. Red Rain
10. Iron Fist In A Velvet Glove (Bonus track)
11. Fire On The Horizon
12. Living For Metal
13. Angel In Black (Videoclip) (Bonus track)
14. Out In The Fields (Bonus track)