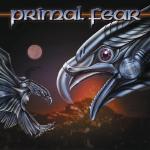 ДРУГИ НАЛИЧНИ АРТИКУЛИ НА
PRIMAL FEAR:





Artist: PRIMAL FEAR
Album: "PRIMAL FEAR REMASTERED (DIGI)"

Year: 1998/ 2010
Media type: CD


Цена: 22.00 лв. (BGN)

Cat. No.: WIZ00012706
Label: METAL MIND
Genre: Power Heavy Metal



Статус: Артикулът е временно изчерпан!
Доставка до 30 дни.
Out of Stock
30 days delivery




Not many bands can boast such accomplishments as Primal Fear can. In over twelve years, the group managed to release eight LPs and become one of the most important members of the contemporary power metal scene. The exclusive re-release of the band's self-titled debut album (1998) proves that true metal is still alive and kicking! Instead of nice and polished melodies, "Primal Fear" delivered a raw, heavy material, full of rage and unbound energy. The opening track "Chainbreaker" says it all - razor-sharp guitars, fast double-bass drumming and top notch vocals introduce the listener to a true power metal paradise. Other highlights on the album include the mid-tempo stomp "Dollars", the beautiful ballad "Tears of Rage" and a cover version of Deep Purple's "Speedking". The new digipak edition of "Primal Fear" includes a bonus track and is limited to 2000 copies. Remastered using tube technology, digitally edited on a golden disc.
Tracklist:
1. Primal Fear
2. Chainbreaker
3. Silver & Gold
4. Promise Land
5. Formula One
6. Dollars
7. Nine Lives
8. Tears Of Rage
9. Speedking
10. Battalions Of Hate
11. Running In The Dust
12. Thunderdome
Bonus Track:
13. Breaker