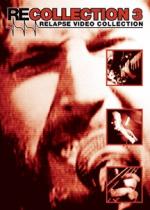 ДРУГИ НАЛИЧНИ АРТИКУЛИ НА
V. A.:





Artist: V. A.
Album: "RECOLLECTION 3 (DVD)"

Year: 2005
Media type: DVD


- МЕГА РАЗПРОДАЖБА!! ВАЖИ ДО ИЗЧЕРПВАНЕ НА ОПРЕДЕЛЕНИТЕ КОЛИЧЕСТВА!!

Цена: 10.00 лв. (BGN)

Cat. No.: WIZ00012669
Label: RELAPSE
Genre: Heavy Metal/ NWOBHM



Статус: Наличен / In Stock




Includes videos from Mastodon, The Dillinger Escape Plan, Suffocation, Nile, Pig Destroyer, Cephalic Carnage, Origin, Zeke, Today Is the Day, Nasum, Exhumed, Amorphis, Agoraphobic Nosebleed, Skinless, Alchemist, and Trial of the Bow.
TRACKLIST DVD:
1. THE DILLINGER ESCAPE PLAN - Panasonic Youth
2. NILE - Execration Text
3. CEPHALIC CARNAGE - Dying Will Be the Death of Me
4. PIG DESTROYER - Gravedancer
5. MASTODON - Iron Tusk (Director's Cut)
6. SUFFOCATION - Surgery of Impalement
7. ALCHEMIST - Alpha Capella Nova Vega
8. ZEKE - D lphenw lf
9. NASUM - Wrath
10. TODAY IS THE DAY - Mother's Ruin
11. EXHUMED - The Matter of Splatter
12. TRIAL OF THE BOW - Ornamentation
13. ORIGIN - The Portal
14. AMORPHIS - Against Widows
15. AGORAPHOBIC NOSEBLEED - Mosquito Holding Human Cattle Prod
16. SKINLESS - The Optimist