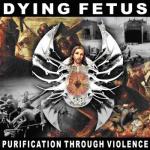 ДРУГИ НАЛИЧНИ АРТИКУЛИ НА
DYING FETUS:





Artist: DYING FETUS
Album: "PURIFICATION THROUGH VIOLENCE RE-ISSUE (DIGI)"

Year: 1996/ 2011
Media type: CD



- Purification through Violence is the legendary debut album from one of the US' most renowned death metal killing machines! Now repackaged with liner notes from the band, expanded art and photography, and two previously-unreleased bonus tracks [!]


Цена: 22.00 лв. (BGN)

Cat. No.: WIZ00012656
Label: RELAPSE
Genre: Old Skull/ Melodic Death Metal



Статус: Наличен / In Stock




Recommended if You Like: CANNIBAL CORPSE, MORBID ANGEL, DEATH, NILE, BOLT THROWER, MISERY INDEX, ABORTED, ABYSMAL DAWN, CRYPTOPSY, ENTOMBED, DEVOURMENT, SIX FEET UNDER, AMON AMARTH ...
TRACKLIST:
1. Blunt Force Trauma
2. Beaten into Submission
3. Skull Fucked
4. Permanently Disfigured
5. Raped on the Altar
6. Nothing Left to Pray For
7. Nocturnal Crucifixion
8. Scum (Fuck the Weak) (Napalm Death cover)
9. Beaten into Submission (Rehearsal Demo, 1997)
10. Raped on the Altar (Live at Herbolzheim, Germany, 1998)