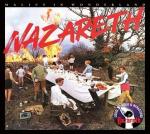 ДРУГИ НАЛИЧНИ АРТИКУЛИ НА
NAZARETH:





Artist: NAZARETH
Album: "MALICE IN WONDERLAND DELUXE RE-ISSUE (DIGI)"

Year: 1980/ 2010
EAN/UPS: 698458814326
Media type: CD


- DELUXE DIGIPACK + DIGITALLY REMASTERED + 7 BONUS TRACKS [!] - ВРЕМЕННО НАМАЛЕНИЕ!! ВАЖИ ДО ИЗЧЕРПВАНЕ НА ОПРЕДЕЛЕНИТЕ КОЛИЧЕСТВА!!

Цена: 18.00 лв. (BGN)

Cat. No.: WIZ00012218
Label: Salvo
Genre: Hard Rock



Статус: Артикулът е временно изчерпан!
Доставка до 30 дни.
Out of Stock
30 days delivery






A career high point and many a fan's favourite Naz album, Malice In Wonderland effectibely balanced the group's hard rock energy with a polished, radio-friendly approach that reaped dividends on tracks like Holiday, Big Boy, Showdown At The Border and Heart's Grown Cold. This remastered edition adds 7 cracking live tracks from their Hammersmith Odeon gig of March 16, 1980.

REVIEW:

You'd somehow expect the music of Scotland's industrial cities to sound a lot harder and more brutal than it did. Yet The Incredible String Band are more typical than Frankie Miller or Alex Harvey. Indeed, it was left to Dunfermline's Nazareth to carry the torch for hard rock by hard men throughout the 70s and 80s. They may have hit their peak in the mid-70s with Razamanaz and Loud 'n' Proud but have continued in various line-ups ever since to make exciting, blood-vessel rupturing strength high energy rock.

Malice In Wonderland, released in 1980, saw ex-SAHB guitarist Zal Cleminson join them, as well as a radical change of direction towards a more REO Speedwagonesque sound. Holiday sounds like they have poodle perms, though Talkin' bout Love is vintage Naz.

7/10 - Tommy Udo, Classic Rock

TRACKLIST:

1. HOLIDAY
2. SHOWDOWN AT THE BORDER
3. TALKIN' TO ONE OF THE BOYS
4. HEART'S GROWN COLD
5. FAST CARS
6. BIG BOY
7. TALKIN' BOUT LOVE
8. FALLEN ANGEL
9. SHIP OF DREAMS
10. TURNING A NEW LEAF

11. I WANT TO DO EVERYTHING FOR YOU (live) (bonus track)
12. SHOWDOWN AT THE BORDER (live) (bonus track)
13. BEGGARS DAY (live) (bonus track)
14. BIG BOY (live) (bonus track)
15. HOLIDAY / THIS FLIGHT TONIGHT (live) (bonus track)
16. EXPECT NO MERCY (live) (bonus track)
17. BROKEN DOWN ANGEL (live) (bonus track)

LINE-UP:

Dan McCafferty - nysse (sic) singer
Manny Charlton - guitars
Zal Cleminson - guitars, synthesiser
Pete Agnew - bass guitar, also nysse (sic) singer
Darrell Sweet - drums

Other credits:
Jeff Baxter - producer tracks 1-10, guitar, synthesizer
Greg Mathieson - string arrangements on "Fallen Angel"
Paulinho Da Costa - percussion on "Turning a New Leaf" and "Talkin' 'Bout Love"
Alan Estes - vibes on "Fast Cars"
Venetta Fields, Sherlie Matthews, Paulette Brown - back vocals on "Heart's Grown Cold"
Terri & The Semiconductors - back vocals on "Big Boy"