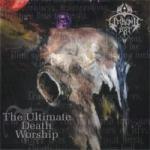 ДРУГИ НАЛИЧНИ АРТИКУЛИ НА
LIMBONIC ART:





Artist: LIMBONIC ART
Album: "THE ULTIMATE DEATH WORSHIP RE-ISSUE (DIGI)"

Year: 2002/ 2019
EAN/UPS: 8715392191220
Media type: CD


- DELUXE REISSUE OF LIMBONIC ART FIFTH ALBUM INCL. BONUS TRACK [!]

Цена: 28.00 лв. (BGN)

Cat. No.: WIZ00011993
Label: Hammerheart
Genre: Black Metal/ Atmospheric/ Dark Metal



Статус: Наличен / In Stock




The last Limbonic Art album, or so we thought that was the case in 2003, when the band members decided they did everything they could with the project.

Years later, they came back together, but that's a completely different story. After the mighty "Ad Noctum..."album, Limbonic Art had big shoes to fill, and the "Ultimate Death Worship" delivers, but unfortunately it remains underrated and overlooked.

Where "Ad Noctum..." focused on creating a "big" but dark sound, "The Ultimate Death Worship" is fast, raw, and abrasive. The best part of "The Ultimate Death Worship" is how aggressive everything is, while also remaining somewhat consistent throughout. This aggressions really enhances the riffs, vocals, and drumming.

Most of the songs follow this same formula with minor adjustments in between. In general, the band uses a consistent structure that can sometimes be a little predictable, but they're all the right moves - the ones you'd expect. It's like the band members tried to make this appealing and grabbing to most metal listeners and it works because the end product is highly entertaining.

There are some surprises though, namely in "Towards the Oblivion of Dreams." This track showcases Limbonic Art's ability to still provide an excellent use of symphonic keyboards. Its melodic nature actually reminds of some songs from "In Abhorrence Dementia".

"The Ultimate Death Worship" may not have received the same praise as other Limbonic Art albums, but it does offer a different flavor from not only the band, but also the genre of space-themed metal and does a good job of it. It's a fantastic ride and I feel the band really wanted to make something powerful before going on a hiatus for the next several years.

Needed for fans of: Emperor, Satyricon, Dimmu Borgir ...


TRACKLIST:

1. The Ultimate Death Worship
2. Suicide Commando
3. Purgatorial Agony
4. Towards the Oblivion of Dreams
5. Last Rite for the Silent Darkstar
6. Interstellar Overdrive
7. From the Shades of Hatred
8. Funeral of Death
9. Voyage of the Damned - bonus track