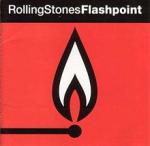 Artist: THE ROLLING STONES
Album: "FLASHPOINT REMASTERED (CD)"

Year: 1991/ 2010
EAN/UPS: 00602527164281
Media type: CD


- ВРЕМЕННО НАМАЛЕНИЕ!! ВАЖИ ДО ИЗЧЕРПВАНЕ НА ОПРЕДЕЛЕНИТЕ КОЛИЧЕСТВА!!

Цена: 16.00 лв. (BGN)

Cat. No.: WIZ00011962
Label: Universal
Genre: Southern Rock/ Blues



Статус: Артикулът е временно изчерпан!
Доставка до 30 дни.
Out of Stock
30 days delivery




Flashpoint is a live album by British rock band The Rolling Stones. It was released in 1991, having been recorded throughout 1989 and 1990 on the mammoth Steel Wheels/Urban Jungle Tour. It was the first live album by the group since 1982's "Still Life" (American Concert 1981).

Flashpoint was recorded across North America, Europe and Japan, Flashpoint is also the first Rolling Stones release of the 1990s and, unlike previous live sets, includes two new studio tracks: "Highwire" and "Sex Drive"; the former was released as a single earlier in 1991 and was a comment on the Gulf War.

Although the live selections are mostly familiar hits mixed in with new tracks from Steel Wheels, Flashpoint also includes songs like "Factory Girl" from 1968's Beggars Banquet and "Little Red Rooster", originally a #1 UK hit single in 1964, featured here with special guest Eric Clapton on guitar.

Flashpoint was released in April 1991 and was generally well-received, with "Highwire" becoming a rock radio hit, and managed to reach #6 in the UK and #16 in the US where it went gold.

Two songs, "Rock and a Hard Place" and "Can't Be Seen", were not included on the Vinyl version of the album.

In 1998, Flashpoint was remastered and reissued by Virgin Records and again in 2010 by Universal

All songs by Mick Jagger and Keith Richards, except where noted.

TRACKLIST:

1."(Intro) Continental Drift" – 0:26
2."Start Me Up" – 3:54
3."Sad Sad Sad" – 3:33
4."Miss You" – 5:55
5."Rock and a Hard Place" – 4:52
6."Ruby Tuesday" – 3:33
7."You Can't Always Get What You Want" – 7:26
8."Factory Girl" – 2:47
9."Can't Be Seen" – 4:17
10."Little Red Rooster" (Willie Dixon) – 5:15
11."Paint It Black" – 4:02
12."Sympathy for the Devil" – 5:35
13."Brown Sugar" – 4:06
14."Jumpin' Jack Flash" – 5:00
15."(I Can't Get No) Satisfaction" – 6:09
16."Highwire" – 4:44
17."Sex Drive" – 5:07

LINE-UP:

Mick Jagger – lead vocals, guitars and harmonica
Keith Richards – vocals and guitars
Ronnie Wood – guitars
Bill Wyman – bass guitar
Charlie Watts – drums

Additional musicians:
Bobby Keys – saxophone
Matt Clifford – keyboards and French horn
Horns by The Uptown Horns – Arno Hecht, Paul Litteral, Bob Funk, Crispen Cloe
Horns on "Rock and a Hard Place" – The Kick Horns
Bernard Fowler – background vocals
Lisa Fischer – background vocals
Cindy Mizelle – background vocals
Eric Clapton – guitar on "Little Red Rooster"
Katie Kissoon – backing vocals on "Sex Drive"
Tessa Niles – backing vocals on "Sex Drive"