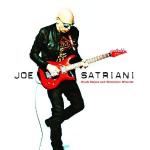 ДРУГИ НАЛИЧНИ АРТИКУЛИ НА
JOE SATRIANI:





Artist: JOE SATRIANI
Album: "BLACK SWANS AND WORMHOLE WIZARDS (CD)"

Year: 2010
Media type: CD


- ВРЕМЕННО НАМАЛЕНИЕ!! ВАЖИ ДО ИЗЧЕРПВАНЕ НА ОПРЕДЕЛЕНИТЕ КОЛИЧЕСТВА!!



Цена: 15.00 лв. (BGN)

Cat. No.: WIZ00011924
Label: SONY
Genre: Southern Rock/ Blues



Статус: Артикулът е временно изчерпан!
Доставка до 30 дни.
Out of Stock
30 days delivery




Satriani's 14th studio album, Black Swans and Wormhole Wizards, produced and recorded by Mike Fraser (AC/DC, Metallica) and Satriani, has recently been completed and is set for release on October 5, 2010 through Epic Records. Joe is joined once again by veteran Satriani bandmate Jeff Campitelli on drums, and newcomers, keyboardist Mike Keneally (Frank Zappa, Steve Vai) and bassist Allen Whitman (Mermen) also adding to the sound. Satriani's classic sound is accompanied by a surprisingly rich texture of new material as well. This 11-track album's first single "Light Years Away" is destined to be a hit, with several other high energy offerings, like "Wormhole Wizards" and "Premonition." Satriani's World Tour promoting Black Swans... will begin in this fall, kicking off on October 16 in Dublin, Ireland with the North American dates starting on December 1 in Atlanta, hitting cities such as Chicago, New York, Boston and more.

TRACKLIST:

1."Premonition"
2."Dream Song"
3."Pyrrhic Victoria"
4."Light Years Away"
5."Solitude"
6."Littleworth Lane"
7."The Golden Room"
8."Two Sides to Every Story"
9."Wormhole Wizard"
10."Wind in the Trees"
11."God Is Crying"