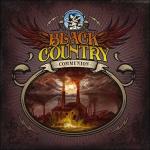 ДРУГИ НАЛИЧНИ АРТИКУЛИ НА
BLACK COUNTRY COMMUNION:





Artist: BLACK COUNTRY COMMUNION
Album: "BLACK COUNTRY COMMUNION (CD)"

Year: 2010
EAN/UPS: 8712725731924
Media type: CD


Цена: 22.00 лв. (BGN)

Cat. No.: WIZ00011921
Label: Mascot
Genre: Hard Rock



Статус: Наличен / In Stock




Black Country Communion are an Anglo/American rock supergroup comprising vocalist/bassist Glenn Hughes (Deep Purple Black Sabbath, Trapeze), drummer Jason Bonham (son of Led Zeppelin's John Bonham), Derek Sherinian (Dream Theater) and blues rock guitarist Joe Bonamassa. All songs are sung by Glenn Hughes, with the exception of Song Of Yesterday and The Revolution In Me which are both sung by Joe Bonamassa. Hughes and Bonamassa share lead vocals on the songs Sista Jane and Too Late For The Sun. Also included on the album is a new version of Medusa, the classic rock song that Hughes originally recorded with his first band Trapeze.

TRACKLIST CD:

CD-1 Black Country 3:14
CD-2 One Last Soul 3:52
CD-3 The Great Divide 4:45
CD-4 Down Again 5:46
CD-5 Beggarman 4:51
CD-6 Song Of Yesterday 8:33
CD-7 No Time 4:19
CD-8 Medusa 6:57
CD-9 The Revolution In Me 4:59
CD-10 Stand (At The Burning Tree) 7:02
CD-11 Sista Jane 6:55
CD-12 Too Late For The Sun 11:19

LINE-UP:

Drums - Jason Bonham
Guitar, Vocals - Joe Bonamassa
Keyboards - Derek Sherinian
Vocals, Bass - Glenn Hughes

Whistle, Other [Uilleann Pipes] - Patrick D'Arcy

Producer - Kevin Shirley

Recorded at Shangri-La Studios, Malibu CA.
Overdubs at The Cave, Malibu CA and Germano Studios New York City NY.