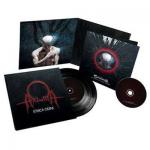 ДРУГИ НАЛИЧНИ АРТИКУЛИ НА
ENSLAVED:





Artist: ENSLAVED
Album: "AXIOMA ETHICA ODINI LTD. EDIT. (BOX CD+7")"

Year: 2010
Media type: CD


Цена: 28.00 лв. (BGN)

Cat. No.: WIZ00011869
Label: INDIE
Genre: Black Metal/ Atmospheric/ Dark Metal



Статус: Артикулът е временно изчерпан!
Доставка до 30 дни.
Out of Stock
30 days delivery





"Axioma Ethica Odini" will be made available as a special edition in gatefold seven-inch format with the entire album on CD and a seven-inch vinyl single as a bonus, as well as a regular jewel case and double vinyl. The bonus seven-inch single will include the songs "Jotunblod (Doom)" and "Migration".

ENSLAVED's eleventh studio album was recorded at three different studios in Bergen, Norway: 1) Duper; 2) Earshot (belonging to ENSLAVED members Herbrand Larsen [keyboardist/backing vocalist] and Ice Dale [lead guitarist]); and 3) Peersonal Sound (owned by rhythm guitarist/songwriter Ivar Bjornson). It is the follow-up to 2008's "Vertebrae", which sold over 1,100 copies its first week of release in North America and debuted on the American Billboard Hard Music chart at #11 and on the Billboard Heatseekers chart at #49. In ENSLAVED's native country, "Vertebrae" entered the official chart at #20 and earned the band its third consecutive Spellemann award (the largest and oldest Norwegian music awards show, which is often referred to as the country's equivalent to the American Grammy Awards). "Vertebrae" also won Terrorizer magazine's coveted "Album of the Year" award for 2008.

The CD's cover artwork was created by the Norwegian artist Truls Espedal, who has painted every ENSLAVED album cover since 2001's "Monumension".

TRACKLIST CD:

01. Ethica Odini
02. Raidho
03. Waruun
04. The Beacon
05. Axioma
06. Giants
07. Singular
08. Night Sight
09. Lightening

7":

01 "Jotunblod (Doom)"
02 "Migration".