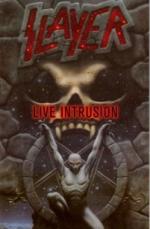 ДРУГИ АРТИКУЛИ НА
SLAYER:





Artist: SLAYER
Album: "LIVE INTRUSION (DVD)"

Year: 2995/ 2010
Media type: DVD


- FOR THE FIRST TIME ON DVD [!]
- Classic Live SLAYER from the Divine Intervention Tour! Feat. 15 Thrash Metal masterpieces [!]


Цена: 20.00 лв. (BGN)

Cat. No.: WIZ00011833
Label: American Rec.
Genre: Thrash Metal/ Speed



Статус: Артикулът е временно изчерпан!
Доставка до 30 дни.
Out of Stock
30 days delivery




SLAYER's classic first home video, "Live Intrusion", which was first released in 1995 on VHS, will finally be issued on DVD this summer. "Live Intrusion" is currently scheduled to be released in the U.K. on Monday, August 16; in Germany on Friday, August 27; and in the U.S. on Tuesday, August 17.

Filmed on SLAYER's "Divine Intervention" tour at the Mesa Amphitheater in Mesa, Arizona, on March 12, 1995, "Live Intrusion" features classic performances of "Raining Blood", "At Dawn They Sleep" and "Hell Awaits", as well as a cover version of the VENOM song "Witching Hour", performed by SLAYER with Chris Kontos and Robb Flynn of MACHINE HEAD.

TRACKLIST:

1."Raining Blood"
2."Killing Fields"
3."War Ensemble"
4."At Dawn They Sleep"
5."Divine Intervention"
6."Dittohead"
7."Captor of Sin"
8."213"
9."South of Heaven"
10."Sex. Murder. Art."
11."Mandatory Suicide"
12."Angel of Death"
13."Hell Awaits"
14."Witching Hour" (Venom cover)
15."Chemical Warfare"

LINE-UP:

Tom Araya - bass, vocals, producer
Jeff Hanneman - guitar
Kerry King - guitar, producer
Paul Bostaph - drums

Additional musicians:
Chris Kontos - performer on the Venom cover "Witching Hour"
Robb Flynn - performer on the Venom cover "Witching Hour"