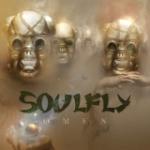 ДРУГИ НАЛИЧНИ АРТИКУЛИ НА
SOULFLY:





Artist: SOULFLY
Album: "OMEN SPECIAL EDIT. (CD+DVD DIGI)"

Year: 2010
Media type: CD





Цена: 22.00 лв. (BGN)

Cat. No.: WIZ00011481
Label: Roadrunner
Genre: Thrash Metal/ Speed



Статус: Артикулът е временно изчерпан!
Доставка до 30 дни.
Out of Stock
30 days delivery





SOULFLY will release its seventh album, "Omen", on May 25 via Roadrunner Records. The CD will be made available in a standard edition and a special limited-edition CD/DVD with access to an exclusive MP3 download of the song "Kingdom".

"Rise Of The Fallen" is available for free download. The track features a guest appearance by Greg Puciato of THE DILLINGER ESCAPE PLAN.

"Omen" was recorded at Edge Of The Earth studios in Hollywood, California with co-producer Logan Mader (MACHINE HEAD, DIVINE HERESY, CAVALERA CONSPIRACY, GOJIRA, DEVILDRIVER) and it features guest appearances by THE DILLINGER ESCAPE PLAN frontman Greg Puciato and PRONG mainman Tommy Victor.

Of the collaborations, guitarist/vocalist Max Cavalera says, "The first one is a song with Tommy Victor from PRONG sharing vocals on a song called 'Lethal Injection'. The other is 'Rise Of The Fallen', with shared vocals from Greg Puciato, THE DILLINGER ESCAPE PLAN's singer. I also recorded two B-sides with both of my sons playing drums. Igor Cavalera plays on EXCEL's 'Your Life, My Life', and Zyon Cavalera plays on SEPULTURA's 'Refuse/Resist' cover."

SOULFLY filmed a video for the song "Rise Of The Fallen" during the band's March 17, 2010 live performance at the Chance Theater in Poughkeepsie, New York. Directing the clip was Dale "Rage" Resteghini, who has helmed over 550 music videos since 2003, including clips for such metal bands as MUDVAYNE, HATEBREED, ANTHRAX, and SHADOWS FALL. Rage has also directed videos for some of the biggest names in the hip hop world, including Lil Wayne, Diddy, Snoop Dog, and Ice Cube.

TRACKLIST CD:

01. Bloodbath & Beyond
02. Rise Of The Fallen
03. Great Depression
04. Lethal Injection
05. Kingdom
06. Jeffrey Dahmer
07. Off With Their Heads
08. Vulture Culture
09. Mega-Doom
10. Counter Sabotage
11. Soulfly VII

12. Four Sticks (LED ZEPPELIN cover) (Bonus Track)
13. Refuse/Resist (SEPULTURA cover) (Bonus Track)
14. Your Life, My Life (EXCEL cover) (Bonus Track)

TRACKLIST DVD:
"Live at the With Full Force festival in, Germany on July 3, 2009"

01. Blood Fire War Hate
02. Sanctuary
03. Prophecy
04. Back To The Primitive
05. Seek 'N' Strike
06. Living Sacrifice
07. Enemy Ghost
08. Refuse/Resist
09. Doom
10. L.O.T.M.
11. Molotov
12. Drums
13. Warmageddon
14. Policia
15. Unleash
16. Roots Bloody Roots
17. Eye For An Eye

A music video for the track "Unleash" will also be featured on the DVD.