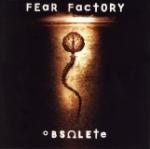 ДРУГИ АРТИКУЛИ НА
FEAR FACTORY:





Artist: FEAR FACTORY
Album: "OBSOLETE (CD)"

Year: 1998
Media type: CD


- ВРЕМЕННО НАМАЛЕНИЕ!! ВАЖИ ДО ИЗЧЕРПВАНЕ НА ОПРЕДЕЛЕНИТЕ КОЛИЧЕСТВА!!


Цена: 15.00 лв. (BGN)

Cat. No.: WIZ00011119
Label: Roadrunner
Genre: Old Skull/ Melodic Death Metal, Electro/ Synth Pop/ Industrial



Статус: Артикулът е временно изчерпан!
Доставка до 30 дни.
Out of Stock
30 days delivery




Canada's Fear Factory is part of the '90s industrial metal scene that, unlike its Luddite '70s/'80s forebears, has no qualms about embracing technology (in this case, synths, programming and even a DJ) in the service of their dark, almost gothic vision. On OBSOLETE, the band owes much of its sound to thrash metal, with churning, gut-punching guitar riffs, sore-throat-from-hell vocals and an unrelentingly ominous mood. What separates Fear Factory from more traditionally inclined thrashers is their aforementioned incorporation of synths to help set the mood. Guest Rhys Fulber's keyboards function both as ambient pads to help establish atmosphere and as melodic elements, underscoring chord progressions. There's even a string section orchestrating the band's more melodic cuts. Look out for a spoken word appearance from electro-gloom godfather Gary Numan on the highly melodic title track.

All Songs written by Fear Factory except "Edgecrusher" with DJ Zodiac and "Timelessness" by Burton C. Bell, Rhys Fulber & Dino Cazares only.

TRACKLIST:

1."Shock" – 4:58
2."Edgecrusher" – 3:39
3."Smasher/Devourer" – 5:34
4."Securitron (Police State 2000)" – 5:47
5."Descent" – 4:36
6."Hi-Tech Hate" – 4:33
7."Freedom or Fire" – 5:11
8."Obsolete" – 3:51
9."Resurrection" – 6:35
10."Timelessness" – 4:08

LINE-UP:

Burton C. Bell - Vocals
Dino Cazares - Guitar, Mixing
Christian Olde Wolbers - Bass
Raymond Herrera - Drums
Fear Factory - Producer
Rhys Fulber - Keyboards, Programming, Producer, Mixing
Gary Numan - Spoken word
Greg Reely - Producer, Mixing
DJ Zodiac - Scratching on "Edgecrusher"